Warfarin pharmacology nursing NCLEX review for nursing students!
This review will break down what you need to know for your pharmacology exams about the medication Warfarin (Coumadin).
Warfarin is an anticoagulant that is used to treat and/or prevent blood clots. It is vital the nurse knows how the drug works, side effects, how to monitor the PT/INR, and education to provide to the patient etc.
Don't forget to take the Warfarin NCLEX Question quiz.
Warfarin (Coumadin) Nursing NCLEX Review Lecture
Warfarin (Coumadin) Pharmacology NCLEX Review
Always ask yourself these 5 questions when you see a drug name to help you recall how the drug works, your role as a nurse, and what information will be asked on an exam about a drug: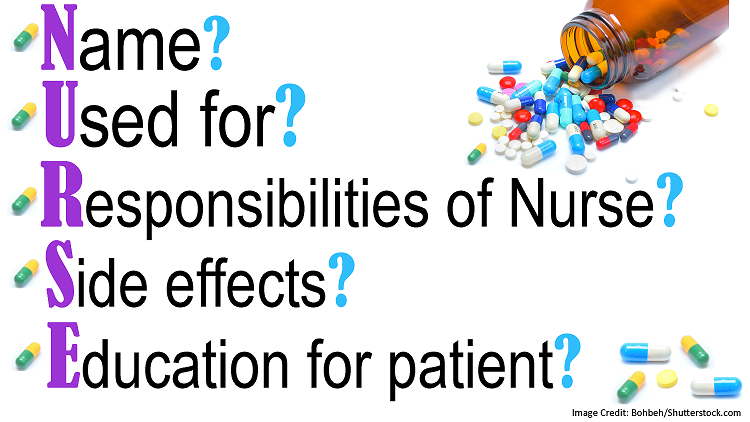 Name (specifically the family name)? This will tell how the drug works.
Used for? This will tell you WHY the drug was ordered…what condition is this medication treating in your patient?
Responsibilities as the nurse? This will tell you what your role is as the nurse and what you need to monitor in the patient.
Side effects? Know the common side effects of the medication.
Education pieces for the patient? As the nurse, we play a HUGE role in educating our patients on how to take the drug, what to watch out for, and when to call the doctor.
Now, using those 5 questions let's go over what you need to know about Warfarin for exams:
Name

?
We're talking about Warfarin (Coumadin).
It's part of the vitamin K antagonist family, and it's an anticoagulant.

What's vitamin K used for in the body? The body uses vitamin K to make clotting factors in the liver. Since this is a "vitamin K antagonist", it will inhibit certain clotting factors in the liver from using vitamin K and slow down the clotting process.

This means this drug can help prevent a blood clot from forming in the vessels, or if a clot is already present, from getting bigger and breaking off and traveling into the circulation. It does this by stopping the coagulation process, which is the process where blood changes from a liquid to a solid state.
How? It stops the coagulation process by blocking the formation of clotting factors in the liver that require Vitamin K to form. There clotting factors are:
When coagulation occurs a venous thromboembolism (VTE) can occur. There are two types of VTEs:

Deep vein thrombosis (DVT): this is where a clot forms within a vessel. It can break off and travel in circulation, and when it does this it is known as an…..
Embolism: Most common type that happens is a pulmonary embolism. This is where the DVT broke off and traveled into circulation where it went to the lungs. An embolism can also cause a stroke or heart attack.

It's important to note anticoagulants do NOT dissolve or break up the clot. They just prolong how long it takes the blood to clot.
Used for

?
It's for long-term anticoagulation.  Preventing or treating blood clots (DVT, PE etc.)
What conditions increase a patient's risk for developing a blood clot (clots can lead to a heart attack, pulmonary embolism, or stroke)?
Post-op (surgery, especially knee or hip), atrial fibrillation (erratic heart impulses lead the heart not to empty fully and blood can pool and form a clot), heart valve replacement, myocardial infarction etc.
Responsibilities of Nurse?
(hint: remember this information)
Monitor for bleeding (in unusual places):
Blood oozing at the gums
Dark, tarry stool "melena"
Reddish, pink urine "Hematuria"
Vomiting blood or coffee ground appearance to emesis "hematemesis"
Bruising for no cause
Nosebleeds
Tachycardia and hypotension
Severe headache (bleeding in brain)
Warfarin is NOT for patients who have: active bleeding (wounds, bleeding ulcers), surgery (spinal, eye, brain), renal or liver failure
Monitor PT/INR: (this drug has a very narrow therapeutic range for it to work successfully and prevent blood clots)
PT means prothrombin time and is a clotting factor. It tells us how fast the blood will clot. Hence, how fast prothrombin changes to thrombin. A normal PT is 10-12 seconds in a patient who is NOT taking Warfarin.
INR means international normalized ratio and is calculated from the PT result. This is the result we look at for patients who are on Coumadin. A normal INR is 0.75-1.25 in a patient who is NOT taking Warfarin. The reason the INR is calculated and reported from the PT is to create a standardized system of reporting of clotting levels for patients who are taking this drug among labs.
Therapeutic INR range for patient's taking Warfarin: 2-3 (this value may be slightly higher if the patient is at a high risk for clot formation….ex: 4.5)
INR too low? risk for clot formation…needs dosage to be increased
INR too high? risk for bleeding…needs dosage to be decreased
Be familiar with the antidote for Warfarin, which is vitamin K.
Administer at the SAME TIME every day (given orally)…usually evening. This medication takes about 3-5 days to start working. Therefore, the patient will be on Heparin until INR is therapeutic.
Avoid IM injections (remember the patient bleeds easily)
Side effects? Other side effects: nausea, abdominal cramping, bloating, easy bruising
Education pieces for the patient?
(hint: remember this information)
Teach the patient to monitor for signs and symptoms of excessive bleeding.
Use soft bristle toothbrushes and electric razors.
Avoid contact sports.
Tell all care providers that you're on Warfarin, especially prior to any procedures.
No over-the-counter supplements without speaking to MD (especially aspirin, NSAIDS, health supplements etc.).
Will need regular blood tests to measure PT/INR, CBC, renal and liver function. The medication will be adjusted based on the results.
If patient has an accident that causes bleeding (example they cut themselves) or has blood drawn etc., they will need to hold firm direct pressure.
NO alcoholic beverages….it interferes with Warfarin.
Eat a normal diet, but AVOID eating an excessive amount of foods high in vitamin K (ex: green leafy vegetables) because this decreases the INR :

spinach, cabbage, broccoli, collard greens, lettuce, kales etc.

Missed a dose of Warfarin? Take when remembered if on the same day. If remembered the NEXT day, skip the dose and take the next dose at its scheduled time. Write down the day you missed and inform the MD. Don't take an extra dose if missed.
References:
Food and Drug administration. (2011). Warfarin sodium tablets Label Ebook]. Retrieved from https://www.accessdata.fda.gov/drugsatfda_docs/label/2011/009218s107lbl.pdf