Are you studying respiratory acidosis and need to know a mnemonic on how to remember the causes?  This article will give you a clever mnemonic and simplify the signs and symptoms and nursing interventions on how to remember respiratory acidosis for nursing lecture exams and NCLEX.
In addition, you will learn how to differentiate respiratory acidosis from respiratory alkalosis. Don't forget to take the respiratory acidosis and respiratory alkalosis quiz.
This article will cover:
Sequence of normal breathing
Patho of respiratory acidosis
Causes of respiratory acidosis
Signs and symptoms of respiratory acidosis
Nursing interventions for respiratory acidosis
Lecture on Respiratory Acidosis
Respiratory Acidosis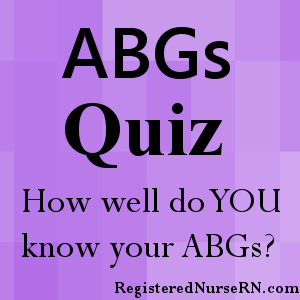 What's involved:…let's look at normal breathing:
Oxygen enters through the mouth or nose
down through the Pharynx
into the Larynx (the throat)
then into the Trachea
and the Bronchus (right and left) which branches into the bronchioles and ends in alveoli sac
*The alveolar sacs are where gas exchange takes place (oxygen and carbon dioxide diffuse across the membrane). The oxygen enters into your blood stream and CARBON DIOXIDE CO2 is exhaled through your nose or mouth.
The diaphragm also plays a role in allowing lungs into inflate and deflate.
Note: if there is any problem with the patient breathing rate (too slow), alveolar sacs (damaged), or diaphragm (weak) the patient can experience respiratory acidosis.
*Main cause of respiratory acidosis is bradypnea (slow respiratory rate <12 bpm which causes CO2 to build-up in the lungs)
When this happens the following lab values are affected:
Blood pH decreases (<7.35)
Carbon dioxide levels increase (>45)
**To compensate for this the Kidneys start to conserve bicarbonate (HCO3) to hopefully increase the blood's pH back to normal…..so HCO3 becomes >26.
REMEMBER (memorize) these lab values:
pH 7.35-7.45
PaCO2 35-45
HCO3 22-26
Causes of Respiratory Acidosis
Remember "DEPRESS" Breathing (anything that causes you to breathe slowly, blocks the airway, or causes the diaphragm not to work properly will cause respiratory acidosis)
Drugs (opioids (fentanyl, morphine), sedation (versed), ….causes respiratory depression "hypoventilation….retain carbon dioxide….increase PaCO2 and decreased pH" ) & Diseases of the neuromuscular system…Myasthenia gravis, Guillain–Barré syndrome  (weakness of voluntary muscles affects the diaphragm….can't expelled the carbon dioxide)
Edema (pulmonary) extra fluid in the lung causes impaired gas exchange
Pneumonia…excessive mucous production affect gas exchange…the alveoli are majorly affected because they are filled with pus and fluid
Respiratory center of brain damaged (brain injury, stroke)
Emboli (blocks the pulmonary artery or branch of the lungs causes carbon dioxide to increase)
Spasms of bronchial tubes (asthma) bronchioles constrict and you have decreased gas exchange
Sac elasticity of alveolar sac are damaged and this restricts air flow in and out of the lungs and this increases carbon dioxide (Emphysema & COPD)
Signs and Symptoms of Respiratory Acidosis
Major neuro changes: Confused, very drowsy, and reports a headache
respiration rate less than 12
low blood pressure
Nursing Interventions for Respiratory Acidosis
Administer oxygen
encourage coughing and deep breathing
suction (pneumonia)
may need respiratory treatment (asthma)
hold respiratory depression drugs (know the category of drugs used opiods, sedatives etc)
****Watch potassium levels that are >5.1…remember in hyperkalemia video we talked about how respiratory acidosis caused increase potassium ….can cause dysrhythmias)
administer antibiotics for infection
may need endotracheal intubation if CO2 rise above 50 mmhg or respiratory distress is present