This is a quiz that contains NCLEX questions for pericarditis. Pericarditis is inflammation of the pericardium. In the previous NCLEX review series, I explained about other cardiovascular disorders so be sure to check those reviews out.
There are different types of pericarditis, such as acute and chronic pericarditis. As the nurse, it is important to know how to care for a patient with pericarditis. In addition, the nurse needs to be aware of the causes, risk factors, and management of pericarditis.
The NCLEX exam loves to ask questions about patient education,major signs and symptoms, and the different types of pericarditis.
This quiz will test you on:
Signs and symptoms of pericarditis
Types of pericarditis
Patient education about pericarditis
Nursing management of pericarditis
Pericarditis NCLEX Questions
This quiz will test your knowledge about pericarditis for the NCLEX exam.
(NOTE: When you hit submit, it will refresh this same page. Scroll down to see your results.)
NCLEX Questions for Pericarditis
1. True or False: The pericardium layer consists of a fibrous layer that is made up of two layers called the parietal and visceral layers.
2. A patient is hospitalized with chronic pericarditis. On assessment, you note the patient has pitting edema in lower extremities, crackles in lungs, and dyspnea on excretion. The patient's echocardiogram shows thickening of the pericardium. This is known as what type of pericarditis?
A. Pericardial effusion
B. Acute pericarditis
c. Constrictive pericarditis
D. Effusion-Constrictive pericarditis
3. Select-all-that-apply: Which of the following are NOT typical signs and symptoms of pericarditis?
A. Fever
B. Increased pain when leaning forward
C. ST segment depression
D. Pericardial friction rub
E. Radiating substernal pain felt in the left shoulder
F. Breathing in relieves the pain
4. You are providing care to a patient with pericarditis. Which of the following is NOT a proper nursing intervention for this patient?
A. Monitor the patient for complications of cardiac tamponade
B. Administer Ibuprofen as scheduled.
C. Place the patient in supine position to relieve pain.
D. Monitor the patient for pulsus paradoxus and muffled heart sounds.
5. You are providing discharge teaching to a patient being discharged home after hospitalization with pericarditis. The physician has ordered the patient to take Colchicine. Which of the following statements indicate the patient did NOT understand your education about how to take this medication?
A.  "I will make sure I take this medication with food."
B. "I will notify the doctor immediately if I start experiencing nausea, vomiting, or stomach pain while taking this medication."
C. "I like to take my medications in the morning with grapefruit juice."
D. "This medication is also used to treat patients with gout."
6. A patient with severe pericarditis has developed a large pericardial effusion. The patient is symptomatic. The physician orders what type of procedure to help treat this condition?
A. Pericardiectomy
B. Heart catheterization
C. Thoracotomy
D. Pericardiocentesis
7. You are providing care to a patient experiencing chest pain when coughing or breathing in. The patient has pericarditis. The physician has ordered the patient to take Ibuprofen for treatment. How will you administer this medication?
A. strictly without food
B. with a full glass of juice
C. with a full glass of water
D. with or without food
8. On physical assessment of a patient with pericarditis, you may hear what type of heart sound?
A. S3 or S4
B. mitral murmur
C. pleural friction rub
D. pericardial friction rub
Answer Key:
1. False
2. C
3. B, C, F
4. C
5. C
6. D
7. C
8. D
More NCLEX Quizzes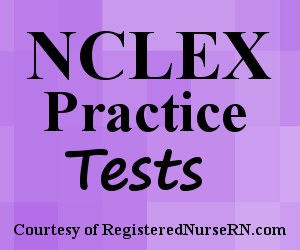 Don't forget to tell your friends about this quiz by sharing it your Facebook, Twitter, and other social media. You can also take more fun nursing quizzes.
*Disclaimer: While we do our best to provide students with accurate and in-depth study quizzes, this quiz/test is for educational and entertainment purposes only. Please refer to the latest NCLEX review books for the latest updates in nursing. This quiz is copyright RegisteredNurseRn.com. Please do not copy this quiz directly; however, please feel free to share a link to this page with students, friends, and others.