This is a quiz on the function of the nephron.
Before you start studying the renal system for NCLEX, it is very important you understand the function of the nephron. This will help you understand how a disease affects the renal system.
The nephron is a very crucial structure in the kidney's ability to produce urine.
This quiz and review is part of a renal series. So, don't forget to check out the other videos and reviews in this series.
Nephron Function Quiz
This quiz will test you on the function of the nephron in preparation for the NCLEX exam.
(NOTE: When you hit submit, it will refresh this same page. Scroll down to see your results.)

Nephron Function Quiz
1. ____________ and _____________ are known as the renal corpuscle.
A. Bowman's Capsule and Renal Cortex
B. Glomerulus and Bowman's Capsule
C. Loop of Henle and Renal Medulla
D. Proximal Convoluted Duct and  Distal Convoluted Duct
2. Blood flows out of the glomerulus via the:
A. Afferent arteriole
B. Peritubular capillaries
C. Vasa Recta
D. Efferent arteriole
3. The glomerulus filters all the following substances EXCEPT: (SELECT-ALL-THAT-APPLY)
A. Blood cells
B. Water
C. Urea
D. Proteins
E. Amino acids
F. Creatinine
G. Sodium and Chloride
H. Calcium
I. Bicarbonate
4. Which parts of the nephron are found in the renal medulla of the kidney?
A. Proximal Convoluted Tubule and Distal Convoluted Tubule
B. Loop of Henle and Distal Convoluted Tubule
C. Loop of Henle and Collecting Tubule
D. Loop of Henle (except the descending limb) and Distal Convoluted Tubule
5. Which part of the Loop of Henle is ONLY permeable to water?
A. Descending Limb
B. Transverse Limb
C. Ascending Limb
D. Proximal Limb
6. The _______________________ is responsible for reabsorbing MOST of the substances found in the filtrate which includes nearly 100% of glucose and amino acids along with approximately 90% bicarbonate and 60-70% of water, sodium and chloride.
A. Distal Convoluted Tubule
B. Collecting Tubule
C. Loop of Henle
D. Proximal Convoluted Tubule
7. The main role of the Loop of Henle is to?
A. Maintain an isotonic environment in the renal medulla
B. Concentrate the urine by allowing reabsorption of water and sodium chloride from the filtrate
C. Dilute the urine by secreting water and sodium chloride into the filtrate
D. Assist the Proximal Convoluted Tubule with hydrogen ion secretion to maintain normal blood pH
8. Which part of the kidney is very vital in helping the Loop of Henle with performing its role with filtrate reabsorption?
A. Renal Medulla
B. Renal Cortex
C. Renal Papilla
D. Minor and Major Calyx
9. Which substance found in the filtrate is only filtered from the bloodstream by the glomerulus and is not reabsorbed or secreted into the renal tubule? (Hint: this substance's rate of excretion from the bloodstream allows us to determine the efficiency of the kidneys)
A. Urea
B. Creatinine
C. Hydrogen ions
D. Nitrogen
10. In the Distal Convoluted Tubule, which hormone plays a role in sodium reabsorption which causes water to be reabsorbed as well?
A. Anti-diuretic hormone (ADH)
B. Parathyroid Hormone (PTH)
C. Aldosterone
D. Cortisol
11. True or False: Calcium is reabsorbed in the loop of Henle under the influence of the parathyroid hormone.
12. Which part of the renal tubule performs the "final touches" on the filtrate before it leaves the kidney as urine?
A. Collecting Tubule/Duct
B. Renal Papilla
C. Loop of Henle
D. Distal Convoluted Tubule
13. Which hormone plays a role in water reabsorption in the collecting duct/tubule?
A. Aldosterone
B. Thyroxine
C. Anti-diuretic hormone
D. Corticotropin-releasing hormone
14. The final components of urine do NOT include? Select-ALL-that apply:
A. Glucose
B. Urea
C. Creatinine
D. Lipids
E. Proteins
Answer Key:
B
D
A, D
C
A
D
B
A
B
C
False
A
C
A, D, E
More NCLEX Quizzes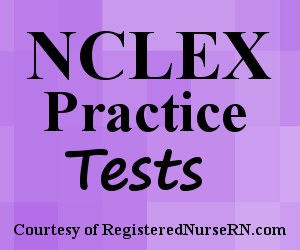 Don't forget to tell your friends about this quiz by sharing it your Facebook, Twitter, and other social media. You can also take more fun nursing quizzes.
*Disclaimer: While we do our best to provide students with accurate and in-depth study quizzes, this quiz/test is for educational and entertainment purposes only. Please refer to the latest NCLEX review books for the latest updates in nursing. This quiz is copyright RegisteredNurseRn.com. Please do not copy this quiz directly; however, please feel free to share a link to this page with students, friends, and others.