This quiz will test your ability on how to convert Celsius and Fahrenheit temperatures for the NCLEX exam. If you are a nursing student, who is prepping for the NCLEX exam, it is important to be familiar with how to convert temperature values.
The reason I wanted to cover how to convert Celsius and Fahrenheit is because our temperature readings in the U.S. are given in Fahrenheit, so many students are not familiar with the Celsius scale. On the NCLEX exam, you may encounter questions where the temperature reading is given in Celsius and you must know if this reading is hyper or hypothermic.
Don't forget to check out the other NCLEX Reviews.
NCLEX Converting Celsius and Fahrenheit Quiz
Test your ability to convert Celsius and Fahrenheit for the NCLEX exam. NOTE: ROUND ANSWER TO NEAREST WHOLE NUMBER.
(NOTE: When you hit submit, it will refresh this same page. Scroll down to see your results.)
Tutorial on How to Convert Celsius & Fahrenheit
Celsius and Fahrenheit Conversion Quiz
40 'C = ? 'F
15 'C = ? 'F
52 'C = ? 'F
5 'C = ? 'F
32 'C = ? 'F
100 'F = ? 'C
55 'F = ?' C
60 'F = ? 'C
39 ' F= ? 'C
78 'F = ? 'C
Answer Key:
104 'F
59 'F
126 'F
74 'F
90 'F
38 'C
13 'C
16 'C
4 'C
26 'C
More NCLEX Quizzes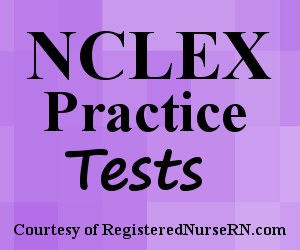 Don't forget to tell your friends about this quiz by sharing it your Facebook, Twitter, and other social media. You can also take more fun nursing quizzes.
*Disclaimer: While we do our best to provide students with accurate and in-depth study quizzes, this quiz/test is for educational and entertainment purposes only. Please refer to the latest NCLEX review books for the latest updates in nursing. This quiz is copyright RegisteredNurseRn.com. Please do not copy this quiz directly; however, please feel free to share a link to this page with students, friends, and others.