Isolation precautions quiz for the NCLEX exam. In nursing school and on the NCLEX exam, you will need to know about infection control. These steps are not only for protecting your patients but yourself from infection.
It is important to know what diseases should be placed into contact, droplet, or airborne precaution, PPE (personal protective equipment) used for each precaution, and special considerations for patients.
Don't forget to check out our other NCLEX review quizzes.
Isolation Precautions NCLEX Practice Questions
This quiz will test your knowledge on infection control for isolation precautions in preparation for the NCLEX exam.
(NOTE: When you hit submit, it will refresh this same page. Scroll down to see your results.)
Lecture on Isolation Mnemonics
Isolation Precaution Quiz for NCLEX
1. Select ALL the patients that would be placed in droplet precautions:
A. A 5 year old patient with Chicken Pox.
B. A 36 year old patient with Pertussis.
C. A 25 year old patient with Scarlet Fever.
D. A 56 year old patient with Tuberculosis.
E. A 69 year old patient with Streptococcal Pharyngitis.
F. A 89 year old patient with C. Diff.
2. A patient with Disseminated Herpes Zoster requires routine tracheostomy suction. Select the appropriate PPE you will wear:
A. Surgical mask, goggles, gown
B. N95 mask, face shield, gown, gloves
C. N95 mask, gown, face shield
D. Surgical mask, face shield, gown, gloves
3. A 6 year old female is diagnosed with Varicella. What type of isolation precautions will be initiated for this patient?
A. Droplet
B. Airborne
C. Airborne and Contact
D. Droplet and Contact
4. You're patient is being transported to special procedures for a PICC line placement. The patient is in droplet precautions. What are your nursing actions to ensure proper transport of the patient?
A. Notify the receiving department and place a surgical mask on the patient.
B. Place an N95 mask on the patient and notify the receiving department.
C. Cancel transport and notify the physician for further orders.
D. Notify the receiving department and place goggles, gown, and mask on the patient.
5. Select ALL the conditions that warrant airborne precautions:
A. Noravirus
B. Hepatitis A
C. Measles
D. Varicella
E. Disseminated Varicella Zoster
F. Tuberculosis
G. Whooping Cough
H. RSV
I. Epiglottitis
6. A patient is diagnosed with Hepatitis A and is incontinent of stool. What type of precautions would be initiated?
A. Contact
B. Standard
C. Droplet
D. Contact and Droplet
7. Your providing care to a patient with C. Diff. After removing the appropriate PPE, you would perform hand hygiene by:
A. Using hand sanitizer
B. Using soap and water
C. Using soap and water only if hands are soiled but can use hand sanitizer
D. Using either hand sanitizer or soap and water
8. Which of the following patients would be in contact precautions? Select-all-that-apply:
A. A 8 year old patient with lice.
B. A 85 year old patient with CRE (Klebisella Pneumoniae).
C. A 65 year old patient with Noravirus.
D. A 75 year old patient with Disseminated Herpes Zoster.
E. A 12 year old patient with impetigo.
F. A 9 year old with RSV.
9. You're providing an in-service on transmission-based precautions to a group of nursing students. Which statement made by a student warrants re-education about the topic?
A. "I will make sure that any patient who is in droplet precaution wears a surgical mask when being transported."
B. "Patients with airborne diseases such as Meningitis require a special room with negative air pressure."
C. "I will always wear a gown and gloves when entering a room of a patient in contact precautions."
D. "If I provide care to patients with C. Diff, Noravirus, and Rotavirus infections, I will always wash my hands with soap and water, not hand sanitizer."
10. Your patient in droplet precautions has family visiting. A family member asks how far they should stand away from the patient while visiting. Your response is:
A. 2 feet or more
B. 3 feet or more
C. Stand at the doorway
D. 6 feet or more
Answer Key:
1. B, C, E
2. B
3. C
4. A
5. C, D, E, T
6. A
7. B
8. A, B, C, D, E, F
9. B
10. B
More NCLEX Quizzes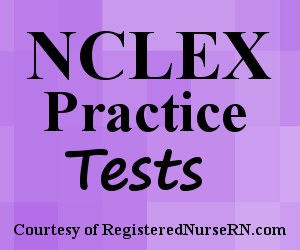 Don't forget to tell your friends about this quiz by sharing it your Facebook, Twitter, and other social media. You can also take more fun nursing quizzes.
*Disclaimer: While we do our best to provide students with accurate and in-depth study quizzes, this quiz/test is for educational and entertainment purposes only. Please refer to the latest NCLEX review books for the latest updates in nursing. This quiz is copyright RegisteredNurseRn.com. Please do not copy this quiz directly; however, please feel free to share a link to this page with students, friends, and others.