This is a quiz that contains NCLEX questions for coronary artery disease. CAD develops when the coronary arteries that deliver a constant supply of blood to the heart muscle start to develop fatty plaques known as atherosclerosis. This can lead to restriction of blood flow to the heart.
In the previous NCLEX review series, I explained about other cardiovascular disorders so be sure to check those reviews out.
As the nurse, it is important to know how to care for a patient with coronary artery disease. In addition, the nurse needs to be aware of the causes, risk factors, and management of CAD.
The NCLEX exam loves to ask questions about patient education,major signs and symptoms, and the different types of CAD.
This quiz will test you on:
Main coronary arteries
Risk factors for coronary artery disease
Nursing management of CAD
Medications used in CAD
Diagnostic tests used in coronary artery disease
Patient education for CAD
Different types of angina
Lecture on Coronary Artery Disease
Coronary Artery Disease (CAD) NCLEX Questions
This quiz will test your nursing knowledge about coronary artery disease (CAD) for the NCLEX exam.
(NOTE: When you hit submit, it will refresh this same page. Scroll down to see your results.)
NCLEX Questions on Coronary Artery Disease
1.       True or False: The left anterior descending coronary artery provides blood supply to the right ventricle and to the front of the septum.
2.       Which coronary artery provides blood to the left atrium and left ventricle:
A. Right marginal artery
B. Posterior descending artery
C. Left circumflex artery
D. Right coronary artery
3.       Which patient(s) are most at risk for developing coronary artery disease? Select-all-that-apply:
A. A 25 year old patient who exercises 3 times per week for 30 minutes a day and has a history of cervical cancer.
B. A 35 year old male with a BMI of 30 and reports smoking 2 packs of cigarettes a day.
C. A 45 year old female that reports her father died at the age of 42 from a myocardial infraction.
D. A 29 year old that has type I diabetes.
4. A patient reports during a routine check-up that he is experiencing chest pain and shortness of breath while performing activities. He states the pain goes away when he rests. This is known as:
A. Unstable angina
B. Variant angina
C. Stable angina
D. Prinzmetal angina
5. Keeping the patient in question 4 in mind: What type of diagnostic tests will the physician most likely order (at first) for this patient to evaluate the cause of the patient's symptoms? Select-all-that-apply:
A. EKG
B. Stress test
C. Heart catheterization
D. Balloon angioplasty
6. You're providing education to a patient who will be undergoing a heart catheterization. Which statement by the patient requires you to re-educate the patient about this procedure?
A. "The brachial artery is most commonly used for this procedure."
B. "A dye is injected into the coronary arteries to assess for blockages."
C. "Not all patients who have a heart catheterization will need a stent placement."
D. "I will not be completely asleep and will be able to breathe on my own during the procedure."
7. A patient reports having crushing chest pain that radiates to the jaw. You administer sublingual nitroglycerin and obtain a 12 lead EKG. Which of the following EKG findings confirms your suspicion of a possible myocardial infraction?
A. absent Q wave
B. QRS widening
C. absent P-wave
D. ST segment elevation
8. A patient is receiving treatment for stable coronary artery disease. The doctor prescribes the patient Plavix. What important information will you include in the patient's teaching? Select-all-that-apply:
A. If you are scheduled for any planned surgical procedures, let your doctor know you are taking Plavix because this medication will need to be discontinued 5-7 days prior to the procedure.
B. A normal side effect of this medication is a dry cough.
C. Avoid green leafy vegetables while taking Plavix.
D. Notify the doctor, immediately, if you develop bruising, problems urinating, or fever.
9. A patient calls the cardiac clinic you are working at and reports that they have taken 3 sublingual doses of nitroglycerin as prescribed for chest pain, but the chest pain is not relieved. What do you educate the patient to do next?
A. Take another dose of Nitroglycerin in 5 minutes.
B. Call 911 immediately
C. Lie down and rest to see if that helps with relieving the pain
D. Take two doses of Nitroglycerin in 5 minutes
10. Lipitor is prescribed for a patient with a high cholesterol level. As the nurse, how do you educate the patient on how this drugs works on the body?
A. Lipitor increases LDL levels and decreases HDL levels, total cholesterol, and triglyceride levels.
B. Lipitor decreases LDL, HDL levels, total cholesterol, and triglyceride levels.
C. Lipitor increases HDL levels, total cholesterol, and triglyceride levels.
D. Lipitor increases HDL levels and decreases LDL, total cholesterol, and triglyceride levels.
11. A patient taking Zocor is reporting muscle pain. You are evaluating the patient's lab work and note that which of the following findings could cause muscle pain?
A. Elevated potassium level
B. Elevated CPK (creatine kinase level)
C. Decreased potassium level
D. Decreased CPK (creatine kinase level)
12. A patient who has diabetes will be started on Metoprolol for medical management of coronary artery disease. Which of the following will you include in your discharge teaching about this medication?
A. Check your heart rate regularly because Metoprolol can cause an irregular heart rate.
B. Check your glucose regularly because this medication can cause hyperglycemia.
C. Check your blood pressure regularly because this medication can cause hypertension.
D. Check your glucose regularly because this medication can mask the typical signs and symptoms of hypoglycemia.
13. True or False: ACE inhibitors work to decrease the workload on the heart by blocking the conversion of Angiotensin II to Angiotensin I which causes vasodilation.
Answer Key:
1. False
2. C
3. B, C, D
4. C
5. A, B
6. A
7. D
8. A, D
9. B
10. D
11. B
12. D
13. False
More NCLEX Quizzes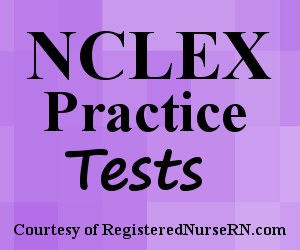 Don't forget to tell your friends about this quiz by sharing it your Facebook, Twitter, and other social media. You can also take more fun nursing quizzes.
*Disclaimer: While we do our best to provide students with accurate and in-depth study quizzes, this quiz/test is for educational and entertainment purposes only. Please refer to the latest NCLEX review books for the latest updates in nursing. This quiz is copyright RegisteredNurseRn.com. Please do not copy this quiz directly; however, please feel free to share a link to this page with students, friends, and others.