This is a quiz that contains NCLEX review questions about pheochromocytoma. Patients who have pheochromocytoma have a tumor on the adrenal gland that is causing excessive production of catecholamines.
In the previous NCLEX review series, I explained about other disorders you may be asked about on the NCLEX exam, so be sure to check out those reviews and quizzes as well.
As the nurse, it is important to know how to care for a patient with pheochromocytoma. In addition, the nurse needs to be aware of the causes, pathophysiology, and management of pheochromocytoma.
The NCLEX exam loves to ask questions about patient education and major signs and symptoms of pheochromocytoma.
This quiz will test you on:
Pathophysiology of pheochromocytoma
Signs and Symptoms of pheochromocytoma
Nursing Interventions for pheochromocytoma
Patient Education
Pheochromocytoma NCLEX Quiz Questions
This quiz will test your knowledge on pheochromocytoma in preparation for NCLEX.
(NOTE: When you hit submit, it will refresh this same page. Scroll down to see your result)
Pheochromocytoma NCLEX Review Quiz
1. A patient is diagnosed with pheochromocytoma. From your nursing knowledge, you know that the patient will present with hypertension, sweating, and palpations due to excessive catecholamine production from the?
A. Adrenal Cortex
B. Adrenal Zona Fasciculata
C. Adrenal Medulla
D. Adrenal Glomerulosa
2. What cells are responsible for secreting catecholamines?
A. Chromaffin
B. Langerhans
C. Enkephalin
D. Parietal
3. A patient has excessive catecholamines in the urine. Which of the following signs and symptoms would the patient NOT exhibit? SELECT-ALL-THAT-APPLY:
A. Tachycardia
B. Anxiety
C. Hypoglycemia
D. Thermogenesis
E. Decreased Basal Metabolic Rate
4. A patient is admitted with uncontrolled hypertension and the doctor suspects pheochromoctyoma. On assessment, you note the blood pressure to be 196/120 and HR 130. The patient reports feeling very anxious, sweaty, and having palpations. What do you expect the doctor will order to confirm a diagnosis of pheochromocytoma?
A. Urinalysis
B. Urine culture
C. 24-hour urine
D. 8-hour urine
5. Which statement is NOT correct about pheochromocytoma?
A. This condition can be trigger by eating foods high in Tyramine such as hamburger meat and spinach.
B. Monoamine oxidase inhibitors can trigger signs and symptoms of pheochromocytoma.
C. An adrenalectomy is the only surgical treatment for pheochromocytoma.
D. Patients with pheochromocytoma are at risk for hypertensive crisis.
6. A patient is scheduled for a bilateral adrenalectomy. Preoperatively, the patient is ordered by the doctor to take an alpha-adrenergic blocker. After administering a dose of this medication, what type of side effect will you monitor the patient for?
A. Bradypnea
B. Hyperglycemia
C. Reflex tachycardia
D. Hypertension
7. In regards to question 6, you are also educating the patient about the post-opt care for a bilateral adrenalectomy. Which statement by the patient indicates they understood your instructions?
A. "I will have to take mineralocorticoids daily for 2 years."
B. "I will have to take glucocorticoids and mineralocorticoids daily for 2 years."
C. "When I experience signs of stress I will have to take mineralocorticoids as needed."
D. "I will have to take glucocorticoids and mineralocorticoids daily for life."
8. A patient is receiving treatment for pheochromocytoma. What type of diet is best for this patient?
A. Low sodium and high potassium diet
B. 2 L fluid restriction diet
C. Low calorie and high fiber diet
D. High calorie diet
Answer Key:
1. C
2. A
3. C, E
4. C
5. A
6. C
7. D
8. D
More NCLEX Quizzes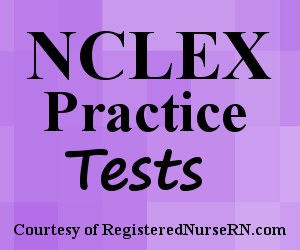 Don't forget to tell your friends about this quiz by sharing it your Facebook, Twitter, and other social media. You can also take more fun nursing quizzes.
*Disclaimer: While we do our best to provide students with accurate and in-depth study quizzes, this quiz/test is for educational and entertainment purposes only. Please refer to the latest NCLEX review books for the latest updates in nursing. This quiz is copyright RegisteredNurseRn.com. Please do not copy this quiz directly; however, please feel free to share a link to this page with students, friends, and others.