This quiz for hypocalcemia and hypercalcemia will test your ability to differentiate the causes, signs & symptoms, and nursing intervention between these two conditions.
The NCLEX exam and your nursing lecture exams will ask you questions about how to provide care to patients with low or high calcium levels.
The questions on this quiz are some of the most common exam questions students are asked about hypocalcemia and hypercalcemia.
Other fluid and electrolytes quizzes.
After you are done taking the quiz and click submit, the page will refresh and you will need to scroll down to see what you got right and wrong. In addition, below this quiz is a layout of the quiz with an answer key (if you wanted to print off the quiz..just copy and paste it). Don't forget to share this quiz with your friends! Please do not re-post on other websites, however.
Teaching Tutorials on Hypocalcemia & Hypercalcemia
Quiz on Hypocalcemia & Hypercalcemia
Which of the following is not a cause of hypocalcemia?
A) Low parathyroid hormone
B) Crohn's Disease
C) Acute Pancreatitis
D) Thiazide Diuretics
A patient with Celica's disease is at risk for which of the following?
A) Hypokalemia
B) Hypocalcemia
c) Hypomagnesemia
D) Hypercalcemia
Stimulation of the facial nerve via the masseter muscle causes twitching of the nose/lips in hypocalcemia is known as?
A) Trousseau's Sign
B) Chvostek's Sign
C) Homan's Sign
D) Goodell's Sign
A patient's calcium level is 6.9. Which of the following is a nursing priority?
A) Initiate seizure precautions
B) Educate patient about foods rich in calcium
C) Administer Calcitonin
D) Administer Vitamin D supplements as ordered
A patient has a calcium level of 7.2. What sign below is indicative of this lab value?
A)     None this is a normal calcium level
B)      Prolonged QT interval on the EKG
C)      Hypoactive bowel sounds
D)     Shortened ST segment
A patient's lab work shows that they have a high parathyroid hormone level. Which of the following conditions is the patient at risk for?
A) Hypercalcemia
B) Hypocalcemia
C) Hypokalemia
D) Hyperkalemia
A patient's calcium level is 11.2. Which of the following conditions could be the cause?
A) None, 11.2 is a normal calcium level
B) Hydrochlorothiazide
C) Cushing's Syndrome
D) Hypoparathyroidism
Lithium is known to affect the parathyroid by increasing ______ levels and decreasing _____ levels?
A) calcium, phosphate
B) phosphate, calcium
C) calcium, sodium
D) sodium, calcium
An EKG shows a shortened QT interval. Which of the following lab values would be indicative of this change?
A) Calcium level of 8.0
B) Calcium level of 12.0
C) Calcium level of 8.7
D) Calcium level of 9.2
A patient has a calcium level of 12.5. Which medication will most likely be ordered for this patient?
A) Calcitonin
B) 10% Calcium Gluconate
C) Calcium Chloride
D) Hydrochlorothiazide
A patient is being discharged home after hospitalization for hypocalcemia. Which statement by the patient indicates she understood the dietary instructions?
A) "I will avoid sardines."
B) "I'll avoid salt and Vitamin-D supplements."
C) "I will tell my husband to only purchase skim milk."
D) "I will be sure to eat lots of cheese, tofu and spinach."
A patient is recovering from parathyroid surgery. Morning labs values are back. Which of the following lab values would correlate as a complication from this type of surgery?
A)     Calcium 6.9
B)      Calcium 12.5
C)      Calcium 8.7
D)     Calcium 9.2
Answer Key:
D
B
B
A
B
A
B
A
B
A
D
A
(NOTE: When you hit submit, it will refresh this same page. Scroll down to see your results.)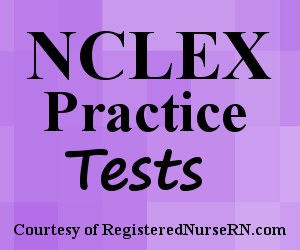 Don't forget to tell your friends about this quiz by sharing it your Facebook, Twitter, and other social media. You can also take more fun nursing quizzes.
*Disclaimer: While we do our best to provide students with accurate and in-depth study quizzes, this quiz/test is for educational and entertainment purposes only. Please refer to the latest NCLEX review books for the latest updates in nursing. This quiz is copyright RegisteredNurseRn.com. Please do not copy this quiz directly; however, please feel free to share a link to this page with students, friends, and others.