This NCLEX endocrine quiz will test your knowledge on Adrenal Crisis, which is also called Addisonian Crisis.  This is where the patient is experiencing extremely low levels of cortisol. This endocrine disorder is life threatening and the nurse must know how to care for a patient who is experiencing this issue.
The NCLEX and nursing school lecture exams love to test students on their ability to differentiate between causes, signs and symptoms, patient education, and various treatments for adrenal crisis.
This NCLEX quiz will test your ability:
Causes of Adrenal Crisis
Nursing managment of Adrenal Crisis
Patient education about Adrenal Crisis
Signs and Symptoms of Adrenal Crisis
(NOTE: When you hit submit, it will refresh this same page. Scroll down to see your results.)
Lecture on Adrenal Crisis
Adrenal Crisis (Addisonian Crisis) NCLEX Quiz
1. Which of the following patients is MOST at risk for developing Addisonian Crisis?
A. A patient who is post-opt day 2 from thyroid surgery.
B. A patient who is post-opt day 2 from an adrenalectomy.
C. A patient with Addison's Disease who reports taking Prednisone regularly.
D. A patient who is having gastrointestinal surgery.
The answer is B. Patients who have had removal of the adrenal glands (adrenalectomy) are MOST at risk for low levels of cortisol (since the gland that produces the hormone has been removed). A patient with Addison's Disease is at risk if they have NOT being taking Prednisone regularly.
2. Which of the following below is NOT a sign or symptom of Addisonian Crisis?
A. Low blood pressure
B. Severe pain in the stomach, legs, and lower back
C. Hypokalemia
D. Hyponatremia
The answer is C. Remember the 5'S & 3'H: Super low blood pressure (nothing will bring it up), Sudden pain in stomach, back, and legs, Syncope (going unconscious) , Shock, Severe vomiting, diarrhea and headache & Hyponatremia, Hyperkalemia, Hypoglycemia
3. A patient was recently discharged home after being treated for Addison's Disease. The patient states they were unable to get their prescription for Prednisone filled after they were discharged from the hospital. The patient complains of pain in their abdomen, legs, and lowers back and is very weak. On assessment, you note the patient's blood pressure is 70/32, blood glucose 63, sodium 118, and potassium level 6.0. Which medication do you anticipate will be ordered by the doctor for this patient?
A. IV Solu-Cortef
B. PO Hydrocortisone
C. IV Morphine
D. PO Prednisone
The answer is A.
4. The ______ ______secretes ACTH which causes the ______ ______ to produce cortisol.
A. Hypothalamus, adrenal medulla
B. Thalamus, pituitary gland
C. Pituitary gland, adrenal cortex
D. Adrenal cortex, pituitary gland
The answer is C.
5. A patient is being discharged after recovering from Addisonian Crisis. Which of the following statements by the patient causes you to re-educate the patient about this condition?
A. "I will monitor my stress levels closely."
B. "I can stop taking my medication once I feel better."
C. "I am going to wear a Medic-Alert bracelet."
D. "I will make sure I perform hand hygiene regularly and avoid sick people."
The answer is B.
6. Which of the following abnormal electrolyte imbalances is EXPECTED with Addisonian Crisis?
A. Potassium level of 3.2
B. Sodium level of 112
C. Blood glucose level of 120
D. Phosphate level of 1.2
The answer is B. Remember with Addisonian Crisis the 3'H (hypoglycemia, hyponatremia, and hyperkalemia). The potassium and blood glucose levels are normal in this question. Phosphate levels are not significant in Addisonian Crisis. The sodium level is very low which represents hyponatremia. Normal sodium level is 135-145.
7. The role of cortisol in the body includes:
A. Decreasing the blood sugar and inhibiting fat and carb production
B. Synthesizing proteins and increasing carb excretion
C. Elevating the blood pressure and maintaining ADH (anti-diuretic hormone)
D. Increasing blood glucose levels, and breaking down fats, proteins, and carbs
The answer is D.
8. Which of the following is a nursing PRIORITY when caring for a patient in Addisonian Crisis?
A. Administering IV Solu-Cortef
B. Checking blood glucose
C. Monitoring low urine specific gravity
D. Elevating the head of the bed
The answer is A. Administering IV Solu-Cortef is a PRIORITY because if the patient does not immediately receive cortisol they will die. Once IV Solu-Cortef is administered symptoms will start to subside.
(NOTE: When you hit submit, it will refresh this same page. Scroll down to see your results.)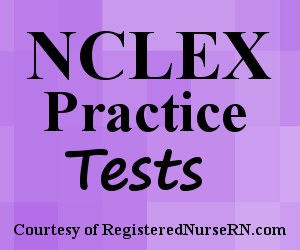 Don't forget to tell your friends about this quiz by sharing it your Facebook, Twitter, and other social media. You can also take more fun nursing quizzes.
*Disclaimer: While we do our best to provide students with accurate and in-depth study quizzes, this quiz/test is for educational and entertainment purposes only. Please refer to the latest NCLEX review books for the latest updates in nursing. This quiz is copyright RegisteredNurseRn.com. Please do not copy this quiz directly; however, please feel free to share a link to this page with students, friends, and others.