ACE (angiotensin-converting enzyme) Inhibitors pharmacology nursing NCLEX review for nursing students!
This review will break down what you need to know for your pharmacology exams about the medication ACE Inhibitors. 
ACE Inhibitors are cardiac medications that lower the blood pressure by inhibiting the conversion of Angiotensin I to Angiotensin II. It is vital the nurse knows how the drug works, side effects, the nursing considerations, and education to provide to the patient etc.
Don't forget to take the ACE Inhibitors NCLEX Questions quiz.
ACE Inhibitors Nursing Review Lecture
ACE Inhibitors NCLEX Review
Always ask yourself these 5 questions when you see a drug name to help you understand how the drug works, your role as a nurse, and what information will be asked on an exam about the drug: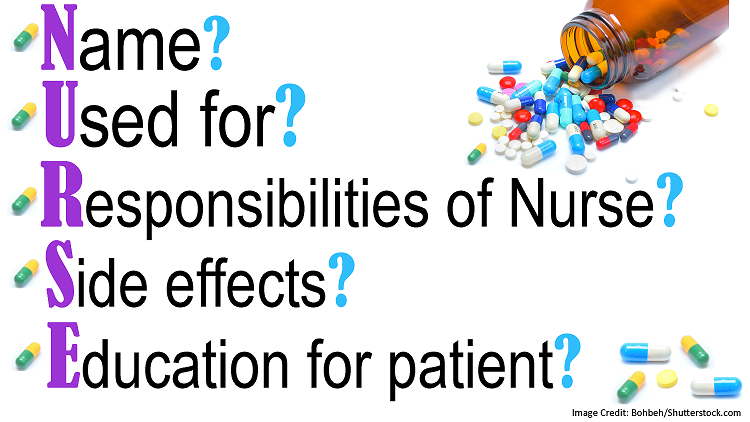 Name (specifically the family name)? This will tell how the drug works.
Used for? This will tell you WHY the drug was ordered…what condition is this medication treating in your patient?
Responsibilities as the nurse? This will tell you what your role is as the nurse and what you need to monitor in the patient.
Side effects? Know the common side effects of the medications
Education pieces for the patient? As the nurse we play a HUGE role in educating our patients on how to take the drug, what to watch out for, and when to call the doctor.
Now, using those 5 questions let's go over what you need to know about ACEI for exam:
Name?
ACE: Angiotensin-Converting Enzyme Inhibitors
Medications end in PRIL
Examples: Captopril, Lisinopril, Ramipril, Quinapril, Benazepril
How these drugs work? They inhibit the RAAS (renin-angiotensin aldosterone system).
Goal of the RAAS? To manage our blood pressure by activating a substance that naturally occurs in our body called Angiotensin II.
How it does this?
Low blood pressure occurs -> Kidneys release RENIN into circulation -> causes ANGIOTENSINOGEN (a protein created and released by the liver) to produce ANGIOTENSIN I -> then a substance called ANGIOTENSIN-CONVERTING ENZYME (ACE) converts Angiotensin I to -> ANGIOTENSIN II
ACE Inhibitors prevent the conversion of Angiotensin I to Angiotensin II (which is an active vasoconstrictor).
Now let's talk a little more about this ACE and Angiotensin:
ACE: converts Angiotensin I to Angiotensin II and it inactivates bradykinin by breaking it down (note: inhibiting ACE will increase the amount of bradykinin)
Bradykinin: is an inflammatory substance that dilates vessels but increased amounts of it are thought to lead to the dry, persistent cough experienced with ACEI. If this is experienced and can't be tolerated by the patient, the physician may switch the patient to an angiotensin II receptor blocker (ARB).
Angiotensin II:
Causes major vasoconstriction of the vessels (increases SVR and blood pressure)
Trigger the release of ALDOSTERONE

Causes the kidneys to keep water and sodium but excrete potassium.
Since ACE Inhibitors block the role of angiotensin II, it will cause the opposite effects:
Dilates vessels (decrease SVR and blood pressure)
Causes kidneys to excrete water and sodium (has somewhat of a diuretic effect) but KEEPS potassium (risk for hyperkalemia)
Used for?
Heart failure (systolic dysfunction): this is when the left ventricle can't pump blood forward out of the heart very well. This will cause the blood to back flow into the lungs, increases the work load on the ventricle which will enlarge it, and decrease cardiac output.

These medications will decrease afterload (the resistance the ventricle must overcome to pump blood out and forward). ACEI will lower the systemic vascular resistance and make it easier for the heart to squeeze blood forward. Also, they will decrease preload (the amount the ventricles stretch once they're filled with blood at the ending of the filling phase (diastole).

After a myocardial infarction: these medications will help limit the damaging effects on the heart muscle caused by the damage of the infarct.
Responsibilities of Nurse?
Assess blood pressure and pulse routinely (watching for hypotension, especially if patient is taking diuretics or other cardiac medications).
Monitor labs:
Potassium level (hyperkalemia….normal potassium 3.5-5): hyperkalemia can cause EKG changes like: Tall peaked T waves
Renal failure: Elevated BUN and Creatinine and low urinary output <30 cc/hr

Normal BUN: 5-20
Normal Serum creatinine: 0.6–1.2 mg/dL
Watch for Angioedema: This is swelling deep in the skin (dermis and subcutaneous tissue)…..it's very dangerous!
Signs and symptoms: swelling on the face (mouth, eyes, tongue, lips, dyspnea, swelling of extremities)….can occur in any person but most commonly occurs in African American patients.
Assess how patient is tolerating the medication? Is the patient having a dry, persistent cough that they can't tolerate? Some patients can tolerate it. They should NEVER just quit taking the medication because rebound hypertension can occur, but the patient should talk with the MD about switching to another medication like an ARB (angiotensin II receptor blocker).
Also, for patients who are taking an ACEI for heart failure the nurse would need to further investigate that the persistent cough isn't exacerbation of heart failure. When this occurs fluid builds up in the lungs because the heart is too weak to pump it forward. Signs and symptoms of this include: crackles during auscultation, decrease in oxygen saturation, difficulty breathing on excretion etc.
Side effects?
Persistent dry cough, dizziness (change positions slowly), hypotension, high potassium level, angioedema (life threatening)
Education for Patient?
Check blood pressure and pulse regularly (daily the best)… always record it and bring readings to check-up with doctor.
Avoid salt substitutes with potassium. If also taking potassium-sparing diuretics like Spironolactone, avoid consuming foods high in potassium like…potatoes, pork, oranges, tomatoes, avocados, spinach, bananas.
Dry persistent cough can occur…if bothersome notify MD…don't just stop taking due to rebound hypertension!!
Don't skip doses or abruptly quit taking (some patients may quit taking due to irritating cough)….this will lead to rebound hypertension.

Missed dose? take when remembered that same day….if remembered not until the next dose take that day's scheduled dose but never double doses due to risk of severe hypotension.

Report immediately: if experiencing any type of swelling of face or mouth, difficulty breathing…this could be angioedema.
References
Angiotensin-Converting Enzyme Inhibitor (ACE inhibitor) Drugs. Retrieved from https://www.fda.gov/drugs/postmarket-drug-safety-information-patients-and-providers/angiotensin-converting-enzyme-inhibitor-ace-inhibitor-drugs
Food and Drug Administration. Zestril (Lisinopril) Labeling Information [Ebook]. Retrieved from https://www.fda.gov