Placenta previa and abruptio placentae NCLEX practice questions for nursing students. This quiz will test your knowledge on the differences between placental abruption and placenta previa.
As the nurse you must know how to provide care to a woman experiencing one of these conditions along with identifying signs and symptoms.
This quiz is part of a NCLEX review series over maternity nursing, so be sure to check out those other reviews as well.
Don't forget to watch the lecture on abruptio placentae and placenta previa before taking the quiz.
Abruptio Placentae vs Placenta Previa NCLEX Questions
This quiz will test your knowledge on the differences between abruptio placentae (placental abruption) and placenta previa in preparation for the NCLEX exam.
(NOTE: When you hit submit, it will refresh this same page. Scroll down to see your results.)
NCLEX Lectures
Abruptio Placentae and Placenta Previa NCLEX Questions
1. A woman, who is 22 weeks pregnant, has a routine ultrasound performed. The ultrasound shows that the placenta is located at the edge of the cervical opening. As the nurse you know that which statement is FALSE about this finding:
A. This is known as marginal placenta previa.
B. The placenta may move upward as the pregnancy progresses and needs to be re-evaluated with another ultrasound at about 32 weeks gestation.
C. The patient will need to have a c-section and cannot deliver vaginally.
D. The woman should report any bleeding immediately to the doctor.
The answer is C. All the other options are CORRECT. Option C is FALSE. This is a type of placenta previa called marginal (or low-lying). There is a chance the woman can delivery vaginally, but if the placenta was completely over the cervix or partially covering it a c-section would be required. At the 20 week ultrasound the location of the placenta is detected. The location will be re-evaluated at about 32 weeks. If a placenta is found to be low lying there is a chance the placenta will move upward (away from the cervix) as the uterus grows to accommodate the baby.
2. Your patient who is 34 weeks pregnant is diagnosed with total placenta previa. The patient is A positive. What nursing interventions below will you include in the patient's care? Select all that apply:
A. Routine vaginal examinations
B. Monitoring vital signs
C. Administer RhoGAM per MD order
D. Assess internal fetal monitoring
E. Placing patient on side-lying position
F. Monitoring pad count
G. Monitoring CBC and clotting levels
The answers are: B, E, F, and G. Option A is WRONG because vaginal exams are avoided to prevent causing damage to the placenta presenting at the cervical opening. Option C is WRONG because the patient is A positive and does NOT need RhoGAM, which is for patients who are RH negative. Option D is WRONG because external monitoring should be used NOT internal, which can damage the placenta at the cervical opening.
3. A 28 year old female, who is 33 weeks pregnant with her second child, has uncontrolled hypertension. What risk factor below found in the patient's health history places her at risk for abruptio placentae?
A. childhood polio
B. preeclampisa
C. c-section
D. her age
The answer is B. Preeclampisa is a risk factor for experiencing abruptio placentae. The patient is at risk for developing this condition again since she is currently experiencing uncontrolled hypertension with this pregnancy.
4. A 36 year old woman, who is 38 weeks pregnant, reports having dark red bleeding. The patient experienced abruptio placentae with her last pregnancy at 29 weeks. What other signs and symptoms can present with abruptio placentae? Select all that apply:
A. Decrease in fundal height
B. Hard abdomen
C. Fetal distress
D. Abnormal fetal position
E. Tender uterus
The answers are: B, C, and E. Option A is wrong because there may be an INCREASE in fundal height (not decrease) due to concealed bleeding. Option D is wrong because this tends to occur in placenta previa because the placenta attaches too low in the uterus at the cervical opening.
5. Select all the patients below who are at risk for developing placenta previa:
A. A 37 year old woman who is pregnant with her 7th child.
B. A 28 year old pregnant female with chronic hypertension.
C. A 25 year old female who is 36 weeks pregnant that has experienced trauma to abdomen.
D. A 20 year old pregnant female who is a cocaine user.
The answer is A and D. Risk factors for developing placenta previa include: Maternal age >35 years old, multiples (twins etc.), already had a baby, drug use: cocaine or smoking, surgery to the uterus that will leave scarring: fibroid removal, c-section etc.
6. You're performing a head-to-toe assessment on a patient admitted with abruptio placentae. Which of the following assessment findings would you immediately report to the physician?
A. Oozing around the IV site
B. Tender uterus
C. Hard abdomen
D. Vaginal bleeding
The answer is A. Oozing around the IV site can indicate the patient is entering into DIC (disseminated intravascular coagulation) because clotting levels have been depleted. Therefore, the MD should be notified. Option B, C, and D are findings found in this condition, but Option A is a SEVERE complication that can develop from it.
7. Which statement is TRUE regarding abruptio placenta?
A. This condition occurs due to an abnormal attachment of the placenta in the uterus near or over the cervical opening.
B. A marginal abruptio placenta occurs when the placenta is located near the edge of the cervical opening.
C. Nursing interventions for this condition includes measuring the fundal height.
D. Fetal distress is not common in this condition as it is in placenta previa.
The answer is C. All the other options are INCORRECT.
8. Select all the signs and symptoms associated with placenta previa:
A. Painless bright red bleeding
B. Concealed bleeding
C. Hard, tender uterus
D. Normal fetal heart rate
E. Abnormal fetal position
F. Rigid abdomen
The answer is A, D, and E. These are all sign and symptoms of placenta previa. The other options are associated abruptio placentae.
9. Disseminated intravascular coagulation (DIC) can occur in __________________. This happens because when the placenta becomes damaged and detaches from the uterine wall, large amounts of _____________  are released into mom's circulation, leading to clot formation and then clotting factor depletion.
A. Placenta previa, fibrinogen
B. Placenta previa, platelets
C. Abruptio placentae, fibrinogen
D. Abruptio placentae, thromboplastin
The answer is D.
10. A patient who is 25 weeks pregnant has partial placenta previa. As the nurse you're educating the patient about the condition and self-care. Which statement by the patient requires you to re-educate the patient?
A. "I will avoid sexual intercourse and douching throughout the rest of the pregnancy."
B. "I may start to experience dark red bleeding with pain."
C. "I will have another ultrasound at 32 weeks to re-assess the placenta's location."
D. "My uterus should be soft and non-tender."
The answer is B. All the other options are CORRECT about partial placenta previa. Option B is WRONG because this condition will present with PAINLESS, bright red bleeding NOT with pain and dark red bleeding, which happens in abruptio placentae.
More NCLEX Quizzes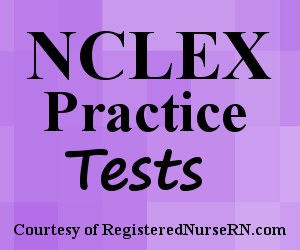 Don't forget to tell your friends about this quiz by sharing it your Facebook, Twitter, and other social media. You can also take more fun nursing quizzes.
*Disclaimer: While we do our best to provide students with accurate and in-depth study quizzes, this quiz/test is for educational and entertainment purposes only. Please refer to the latest NCLEX review books for the latest updates in nursing. This quiz is copyright RegisteredNurseRn.com. Please do not copy this quiz directly; however, please feel free to share a link to this page with students, friends, and others.