Large Veins on Hand
Large veins can appear due to increased exercise, low body fat, genetics, and more. Large veins make it so much easier to start an I.V. Here is a picture below depicting large veins on the hand of a male. Note how the veins are very visible and you can actually touch them individually.  In cases such as this, it is often not required to use a tourniquet or other means to expose veins.
Men who exercise may have much larger veins due to the increased physical activity. Individuals who have higher body fat percentages or who do not exercise frequently may have much smaller veins visible on the skin. Here is a picture example below of a person with large veins vs a person with veins barely visible:
Male hand with large veins
Forearm with Huge Veins in Male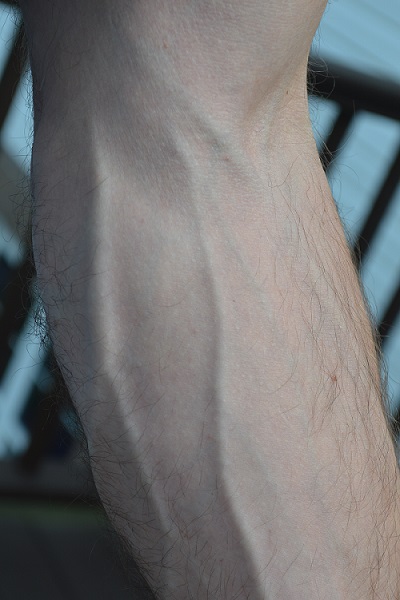 Female with veins barely visible on hand:
In cases where the veins are not very visible, you may have to attempt an IV line a few times before you can hit the vein. It is important to take special precautions to avoid damaging the vein excessively, as well as the surrounding tissues. If the vein is damaged, it can lead to a bruise (hematoma), or even an infection.