SIADH (Syndrome of Inappropriate Anti-Diuretic Hormone) and diabetes insipidus are two disorders that are affected by the anti-diuretic hormone (ADH) but in opposite ways. SIADH and DI are topics covered on the NCLEX exam and in nursing school.
This quiz on SIADH and DI will test your ability to differentiate between the two disorders. These disorders can be confusing to students, but this quiz was designed to help you learn the difference between them.
After you are done taking the quiz and click submit, the page will refresh and you will need to scroll down to see what you got right and wrong. In addition, below this quiz is a layout of the quiz with an answer key (if you wanted to print off the quiz..just copy and paste it). Don't forget to share this quiz with your friends! Please do not re-post on other websites, however.
Lecture on SIADH vs DI
Quiz on SIADH vs DI
A patient arrives to the ER and is unable to give you a health history due to altered mental status. The family reports the patient has gained over 10 lbs in 1 week and says it is mainly "water" weight. In addition, they report the patient hasn't been able to urinate or eat within the past week as well and was recently diagnosed with small cell lung cancer. On assessment, you note the patient's HR is 115 and BP 180/92. Patient sodium level is 90. Which of the following conditions do you suspect the patient is most likely presenting with?
SIADH
Diabetes Insipidus
Addison's Disease
Fluid volume deficient
In the scenario above, which drug do you anticipate the patient will be started on per doctor's order?
Desmopressin (DDAVP) IV
Diabinese
Stimate
Declomycin
Which of the following signs and symptoms is NOT expected with Diabetes Insipidus?
Polyuria
Polydipsia
Polyphagia
Extreme thirst
You are developing a care plan for a patient with SIADH. Which of the following would be a potential nursing diagnosis for this patient?
Fluid volume overload
Fluid volume deficient
Acute pain
Impaired skin integrity
A patient with a mild case of diabetes insipidus is started on Diabinese. What would you include in your patient teaching with this patient?
Signs and symptoms of hypoglycemia
Restricting foods containing caffeine
Taking the medication on an empty stomach
Drinking 16 oz of water when taking the medication
Which patient is most at risk for developing Syndrome of Inappropriate Antidiuretic Hormone (SIADH)?
A patient whose kidney tubules are failing to reabsorb water.
A patient with a tumor on the anterior pituitary gland.
A patient diagnosed with small cell lung cancer.
A patient taking Declomycin.
A patient with SIADH is undergoing IV treatment of a hypertonic IV solution of 3% saline and IV Lasix. Which of the following nursing findings requires intervention?
Assessment finding of crackles throughout the lung fields
Patient reports urinating more frequently
Potassium level of 5.0
Sodium level of 136
The anti-diuretic hormone is __________ in Diabetes Insipidus and _________ in SIADH.
High, low
Absent, absent
Low, high
Low, low
Where is the anti-diuretic hormone PRODUCED in the body?
Anterior pituitary gland
Posterior pituitary gland
Hypothalamus
Medulla
Where is the anti-diuretic hormone SECRETED in the body?
Hypothalamus
Thyroid
Posterior Pituitary gland
Anterior pituitary gland
Answer Key
A
D
C
A
A
C
A
D
C
C
(NOTE: When you hit submit, it will refresh this same page. Scroll down to see your results.)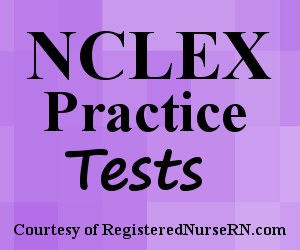 Don't forget to tell your friends about this quiz by sharing it your Facebook, Twitter, and other social media. You can also take more fun nursing quizzes.
*Disclaimer: While we do our best to provide students with accurate and in-depth study quizzes, this quiz/test is for educational and entertainment purposes only. Please refer to the latest NCLEX review books for the latest updates in nursing. This quiz is copyright RegisteredNurseRn.com. Please do not copy this quiz directly; however, please feel free to share a link to this page with students, friends, and others.