These NCLEX review practice questions will test you on pressure ulcers. Pressure ulcers are now called pressure injuries. As the nurse you will want to know how to prevent pressure injuries along with identifying risk factors, and how to stage various pressure injuries.
Don't forget to watch the lecture on pressure injuries before taking the quiz.
Pressure Ulcer NCLEX Questions
This quiz contains practice pressure injury (formerly called pressure ulcer) NCLEX questions in preparation for the NCLEX exam.
(NOTE: When you hit submit, it will refresh this same page. Scroll down to see your results.)

Pressure Ulcer NCLEX Questions
1. An 86 year old female patient is immobile and is in the right lateral recumbent position. As the nurse you know that which sites below are at most risk for pressure injury in this position?
A. Sacral
B. Patella
C. Ankle
D. Ear
E. Elbow
F. Hip
G. Heel
H. Shoulder
The answers are: B, C, D, F, and H. The right lateral recumbent position is where the patient is positioned on their right side. Therefore, the ankle, ear, hip, knee, and shoulders are sites where a pressure injury can occur.
2. You have a new admission. While performing a head-to-toe assessment on your patient, you note the following wound (see figure 1 above) on the patient's right heel. You document this as a:
A. Stage 1 Pressure Injury
B. Stage 3 Pressure Injury
C. Unstageable
D. Deep-Tissue Injury
E. Stage 2 Pressure Injury
F. Stage 4 Pressure Injury
The answer is E. This represents a stage 2 pressure injury (formerly known as a pressure ulcer). The skin is visibly damaged and NOT intact with PARTIAL loss of the dermis. No subq (fatty tissue) is visible. These wounds may be opened with a superficial red/pink ulcer or may have the formation of an opened or closed blister.
3. You're working on a medical surgical floor. You have the following patients below. Select all the patients below that are at risk for a pressure injury:
A. A 19 year old female who is a quadriplegic.
B. A 35 year old male with a BMI of 13.6 that is incontinent of stool and has a right leg splint.
C. A 55 year old female who has controlled diabetes and is ambulating three times a day.
D. A 76 year old male with an elevated ammonia level and is excessively sweaty.
E. A 45 year old with a Braden Scale score of 7.
The answer are A, B, D, and E. The only patient not at risk for a pressure injury is the patient in option B. Remember altered sensory perception, any type of moisture issue (incontinence, sweating etc.), immobility, poor nutrition, altered mental status (high ammonia level can cause confusion and drowsiness), Braden scale score less than 9 are all risk factors for a pressure injury.
4. You're educating a group of nursing students about the different stages of a pressure injury. Which statement is correct about a stage 3 pressure injury?
A. There is full loss of skin tissue that can extend to the muscle, bone, or tendon.
B. A hallmark of a stage 3 pressure injury is that the skin will be intact but it not blanch.
C. The skin will not be intact and there will be full loss of skin tissue that can extend to the subcutaneous tissue.
D. The wound edges will never roll away (epibole) as with a stage 2 pressure injury.
The answer is C. This is the only correct statement about a stage 3 pressure injury.
5. You receive report that your patient who will be admitted to your unit has a stage 4 pressure injury. Which figure above represents this type of injury?
A. Figure 1
B. Figure 2
C. Figure 3
D. Figure 4
The answer is B. Figure 2 represents a stage 4 pressure injury.
6. How would you as the nurse stage figure 3:
A. Stage 1
B. Stage 3
C. Stage 2
D. Unstageable
E. Stage 4
The answer is D. This pressure injury is unstageable. Note the slough and eschar in the wound bed. As the nurse you are unable to assess the depth of the wound, therefore, it is currently unstageable.
7. While performing a skin assessment on a patient who is immobile, you note a purplish black area on the patient's left heel. The skin is intact. On palpation the site feels heavy and spongy. You suspect this may be?
A. Stage 1 pressure injury
B. Deep-tissue injury
C. Stage 4 pressure injury
D. Stage 2 pressure injury
The answer is B. Deep-tissue injuries presents as purplish or blackish areas over skin that is intact. The fatty tissue below is injured. Also, may look like a black blistered area and may feel heavy or squishy.
8. You're developing a plan of care for a patient who is at risk for pressure injury development. The patient is 75 years old and weighs 95 lbs. The patient is confused and has right and left leg contractures. In addition, the patient has a urinary tract infection and is incontinent of urine. The patient is on aspiration precautions and is ordered a honey thick liquid diet with pureed foods. Select all the nursing intervention you will include in the patient's plan of care to prevent a pressure injury:
A. When feeding the patient keep the head of bed elevated at 45′ degree and avoid elevating the foot of the bed.
B. Apply barrier cream as needed to the skin daily.
C. Turn the patient every 4 hours.
D. Keep linens and gowns dry and wrinkle free.
E. Use a wedge pillow for the right and left legs daily.
The answers are B, D, and E. Option A is wrong because when the patient is sitting up you want to prevent them from sliding down in the bed. This can cause friction and shear, which can lead to a pressure injury. Raising the foot of the bed when the HOB is elevated will help prevent the patient from sliding down. Option C is wrong because you will need to turn the patient every 2 hours NOT every 4 hours. Option E is beneficial for the leg contractures to prevent a pressure injury to the knees and ankles.
More NCLEX Quizzes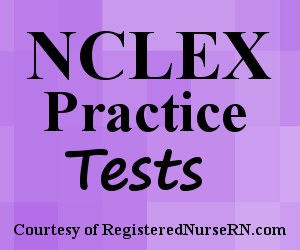 Don't forget to tell your friends about this quiz by sharing it your Facebook, Twitter, and other social media. You can also take more fun nursing quizzes.
*Disclaimer: While we do our best to provide students with accurate and in-depth study quizzes, this quiz/test is for educational and entertainment purposes only. Please refer to the latest NCLEX review books for the latest updates in nursing. This quiz is copyright RegisteredNurseRn.com. Please do not copy this quiz directly; however, please feel free to share a link to this page with students, friends, and others.