Peripheral arterial disease vs. peripheral venous disease NCLEX review for nursing students!
This review compared arterial disease and venous disease. Peripheral arterial and venous diseases are two types of peripheral vascular disease (PVD). It is important that the nurse can identify if a patient is having signs and symptoms related to arterial or venous disease.
Lecture on Arterial Disease vs. Venous Disease
Peripheral Arterial Disease vs. Peripheral Venous Disease NCLEX Review
6 Things to Assess and Ask the Patient to determine if Arterial or Venous?
Remember: "Vessel"
Various positions that help alleviate discomfort/pain
Explanation of the pain (when it happens, characteristics of the pain)
Skin (color, temperature, nails)
Strength of Pulse
Edema
Lesions (ulcers and their location and appearance)
Various positions help alleviate the pain…
Arterial:
Dangling the legs down (dependent position) helps with the pain

Elevation makes it worst.
Venous:
Elevation of the legs decreases swelling and helps with blood flow

Dangling legs or standing/sitting for long periods makes the pain and edema worst.
Explanation of the pain?
Arterial:
Sharp (worst at night)
"Rest Pain": the patient wakes up from sleep with pain (when the legs are in the horizontal position it impedes blood flow), and the patient will dangle the extremity off the bed to alleviate the pain.
Intermittent Claudication: activity (running, walking etc.) cause severe pain in the calf muscles, thighs, buttocks etc. However, when activity is stopped the pain eases up.

Why? The muscle is being deprived of blood flow due to the peripheral arterial disease so it causes pain.
Venous:
Heavy, dull, throbbing, achy
Pain is worst when standing or sitting for long periods.
Elevating legs eases the pain and swelling.
Skin of lower extremity (color, temperature)?
Arterial:
Cool to the touch
Thin, dry/scaly skin
Hairless
Thick toenails
"Dr. EP"
Dangle legs = Rubor
Elevate legs = Pale
Venous:
Warm to the touch
Thick, tough skin
Brownish colored
Strength of Pulse in Lower Extremity?
Arterial: Very poor or even absent! Remember this occur due to a decrease of blood flow going TO the extremities…so pulses will definitely be poor.
Venous: Present, typically normal. Remember there isn't an issue will blood getting to the extremity BUT leaving it.
Edema Present?
Arterial: NOT common
Venous: Yes, it tends to be worst at the end of the day.
Lesions

(location

and appearance?)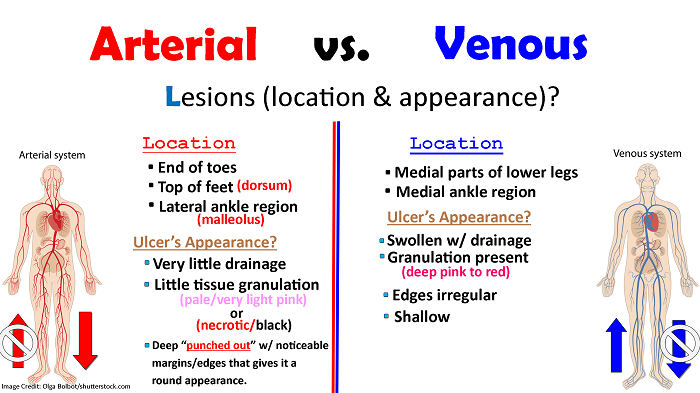 Arterial:
Location: end of toes, top of feet (dorsum), lateral ankle region (malleolus)
Ulcer's Appearance?
Very little drainage
Little tissue granulation (pale/very light pink) OR necrotic/black
Deep "punched out" w/ noticeable margins/edges that gives it a round appearance
Click Here to see -> Arterial Ulcer…note the punched out appearance, how it is located on the lateral malleolus, it has little drainage, and the wound base is very pale (in addition, the surrounding skin is very scaly/dry).
Venous:
Location: medial parts of lower legs & medial ankle region
Ulcer's Appearance?
Swollen w/ drainage
Granulation present (deep pink to red)
Edges are irregular and depth is shallow
Click Here to see -> Venous Stasis Ulcer…note it is located on the medial part of the lower leg and medial malleolus, wound base is a deep red color, edges are irregular, and the skin surrounding the wound is tight and has edema and brown pigmented.
Now test your knowledge by taking the Peripheral Vascular Disease Quiz.
References:
Peripheral Artery Disease (Also Known as P.A.D.) Retrieved 4 October 2019, from https://www.nhlbi.nih.gov/health-topics/peripheral-artery-disease
Treatment Strategies for Patients with Lower Extremity Chronic Venous Disease (LECVD). Retrieved 4 October 2019, from https://www.cms.gov/medicare-coverage-database/details/technology-assessments-details.aspx?TAId=104&bc=AAAQAAAAAAAAAA%3d%3d&