This NCLEX review will explain how to calculate the Parkland Burn Formula. It is actually very easy! Don't forget to take the quiz at the end of this review for more practice problems.
Lecture on Parkland Burn Formula

What is the Parkland Burn Formula?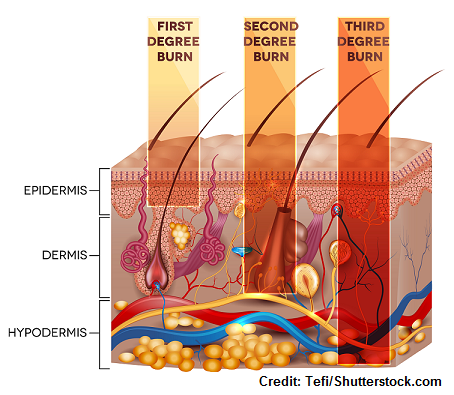 It's a formula used to calculate the amount of fluids a patient needs throughout a 24 hour period after sustaining a severe burn.
Total Amount of Lactated Ringer's Needed = 4 mL x body surface area % burned x patient's weight in kg
As we learned in the last review on burns, patients who've experienced 15% or more of a total body surface area that is burned will have an increase in capillary permeability and will most likely need fluid replacement. (Diver, 2008). This calculation helps determine that total amount.
Why Lactated Ringer's? It's an isotonic solution that will help expand the intravascular compartment, which is essential with this type of injury because the fluid in the intravascular compartment is moving into the interstitial tissues……leading to a risk of hypovolemic shock.
Note: To use the Parkland Burn Formula, you must know how to calculate the total body surface area that is burned. If you don't know how to do this, check out my review on the Rule of Nines (it makes calculating TBSA so easy).
How is the total amount of fluid administered? 1/2 during the first 8 hours and then the other 1/2 over the next 16 hours to equal 24 hours
Let's do a practice problem:
A 46 year old male patient has partial-thickness burns on:
Anterior head and neck
Front and back of left arm
Front of right arm
Posterior Trunk
Front and back of right leg
Back of left leg
The patient weighs 180 lbs. Using the Parkland's Burn Formula to calculate fluid replacement, calculate the hourly fluid rate (mL/hr) for this patient over the next 24 hours?
Answer: 1st 8 hours: 1,292 mL/hr and next 16 hours: 646 mL/hr (total amount: 20,664 mL)
Rationale:
63% TBSA burned
180 lb….divide by 2.2= 81.8….82 kg
4 mL x 63 x 82 = 20,664 mL of LR total
1st 8 hours: 20,664 divided by 2 = 10,332 mL…hourly rate (divide by 8): 1,291.5…..1,292 mL/hr
Next 16 hours: 20,664 divided by 2 = 10,332 mL….hourly rate (divide by 16): 645.75……646 mL/hr
More Parkland Formula Practice Questions
References:
Burn Triage and Treatment: Thermal Injuries – Radiation Emergency Medical Management. (2018). Remm.nlm.gov. Retrieved 27 March 2018, from https://www.remm.nlm.gov/burns.htm
Diver, A. (2008). The evolution of burn fluid resuscitation. International Journal Of Surgery, 6(4), 347. Retrieved from https://www.sciencedirect.com/science/article/pii/S1743919108000290