This NCLEX review will discuss osteoarthritis vs. rheumatoid arthritis. 
As a nursing student, you must be familiar with osteoarthritis and rheumatoid arthritis along with how to care for patients who are experiencing these conditions.
These type of questions may be found on NCLEX and definitely on nursing lecture exams.
Don't forget to take the osteoarthritis vs. rheumatoid arthritis quiz.
You will learn the following from this NCLEX review:
Definition of osteoarthritis and rheumatoid arthritis
Overview
Signs and Symptoms
Nursing Interventions
Treatment
NCLEX Lecture on Osteoarthritis vs. Rheumatoid Arthritis
Osteoarthritis vs. Rheumatoid Arthritis NCLEX Review

What is it? A form of arthritis (MOST COMMON TYPE) that causes deterioration of the articular hyaline cartilage of the bones.
Affects the joints…mostly weight-bearing joints:
Hands, knees, hips, and spine
Does NOT affect other systems of the body and is Unsymmetrical ( RA is symmetrical) with joint involvement (can be in both related joints but NOT a requirement.)
Happens due to "wear and tear" on the joints (risk factors: older age, being overweight, repeated injuries, strenuous jobs, genetics)
Inflammation not present: joint pain due to grating of bones, bone break down, bone spur formation, and cartilage/bone spurs floating in the joint space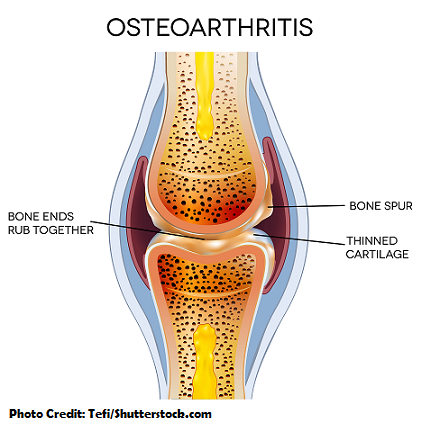 How it Happens?
Hyaline cartilage breaks down and wears away (affects the inside and outside of the bone) ->
inside: sclerosis of the bone (abnormal hardening of the bone )
outside: osteophytes formation-> grating "crepitus" of the bones due to loss of joint space
-> Parts of the cartilage, bone spurs, and underlying bone can break off and float around in the joint space = All of this will lead to pain, stiffness, deformity, and limited mobility.
Signs and Symptoms:
"Osteo"
Outgrowths on Hands: Nodes (bony outgrowths) on fingers from bone spurs:
Heberden's Node (more common): found on the distal interphalangeal joint
Bouchard's Node: found on the proximal interphalangeal joint
Sunrise Stiffness (morning time) Less than 30 minutes (RA greater than 30 minutes)…pain will be the worst at the end of day from overuse than compared to morning time
Tenderness when touching the joint site with bony outgrowths.. NOT warm or boggy with synovitis as with RA
Experience grating (crepitus) of the bones when moving/flexing joint from bones rubbing together and joint pain with activity that goes away with rest
Only the joints: Asymmetrical/Uneven ,  limited to joints (joint site will be hard and bony, not system wide (no fever, anemia, fatigue, systemic inflammation…just joint)
Testing:
 X-ray: remember shows bone NOT cartilage but is still very helpful in showing OA:
presence of bone spurs or parts of bone deterioration
sclerosis of the bone
decreased joint space
osteophytes or bone fragments in the joint
What is it? A form of arthritis that is an autoimmune condition that causes inflammation of the synovium within the joints.
Affects the joints in a Symmetrical fashion: most commonly affects the fingers and wrist.
It can also affect the neck, shoulders, elbows, ankles, knee, and feet.
It is systemic and can extend to the heart, skin, eyes, mouth, lungs, and cause fever and anemia.
Cause unknown: affects women more than men and can happen at any age (20-60 years old).
Inflammation is present: joints will be warm/red joints
How it Happens?
Rheumatoid Arthritis Stages:
Synovitis: inflammation of the synovium
WBCs invade the synovium, which causes it to become inflamed. This inflammation leads to thickening, and the formation of a pannus.
Formation of a Pannus:
A pannus is a layer of vascular fibrous tissue. The pannus will grow so large it will damage the bone and cartilage within the joint. The space in between the joints will disappear and anklyosis will develop.
Bone ankylosis:
This is the fusion of the bones. The patient will have major stiffness and immobility of the joint.
Note: there is no formation of osteophytes as in OA.
Signs and Symptoms:
Seven S's
Sunrise Stiffness (severe pain) GREATER than 30 minutes
Soft, tender, and warm in joint
Swelling in the joint (warm)
Symmetrical
Synovium (affected and inflamed)
Systemic (affects not only the joint feels aches, tired, lungs, heart, anemia etc.)
Stages (synovitis, pannus, anklyosis)
Testing:
Positive Rheumatoid factor, elevate erythrocyte sedimentation, C-reactive protein (inflammation in the body…higher in patients with RA), x-ray may show joint deterioration
Similarities Between the Diseases:
No cure: becomes worst overtime…patient must learn how to managed correctly to prevent further break down of the joint:
Surgery: joint replacement
OR
RA: synovectomy (removal of the synovium), arthrodesis (joint fusion)
OA: osteotomy: bone realignment…like a knee osteotomy to help alleviate weight on affected knee
Exercise very important:
Do NOT exercise painful, irritated joints but let them rest
Patient goals are similar: preserve joint damage, exercising, managing pain, improve mobility, heat and cold compresses
Low impact (avoid high impact), strength training, ROM, using assistive devices, PT, OT
Medications: NSAIDs, corticosteroids (intra-arthritic for OA)
RA: DMARDS, anemia (supplements like iron, folic acid, vitamin b 12)
OA: topical creams, losing weight (BMI <25)
More NCLEX Reviews
References
"Rheumatoid Arthritis (RA) | Arthritis Basics | Arthritis Types | Arthritis | CDC." Cdc.gov. N.p., 2017. Web. 7 Aug. 2017.
What Is Osteoarthritis?. U.S. Department of Health and Human Services Public Health Service, 2014. Web. 29 Aug. 2017.