Getting a good nursing report before you start your shift is vitally important. It is not only important for the nurse but for the patient as well. Nursing report is given at the end of the nurses shift to another nurse that will be taking over care for that particular patient.
Nursing report is usually given in a location where other people can not hear due to patient privacy. If you are required to give report outside of a patient's room try to keep your voice down so other patients and family members can not hear.
Most nurses use the SBAR tool as a guide to help them give report, which is highly recommended. SBAR stands for Situation, Background, Assessment, and Recommendation.
The SBAR tool is a piece of paper usually kept in the patient's chart that is a summary of why the patient is there, what has happened up to that time, important health history, allergies, doctors seeing the patient etc. It is usually written on in pencil and updated by every shift.
Video on How to Give or Receive a Good Nursing Shift Report
What Does a SBAR Report Sheet for Nurses Look Like?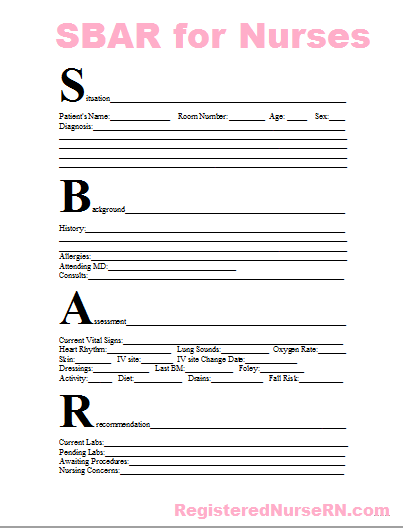 As you can see from the SBAR above, this simple sheet of paper can help guide nurses who are giving report. Although a SBAR is a great tool, the oncoming nurse should still ask the reporting nurse important questions regarding the patients status that may not be included in the SBAR.
Questions to Ask During Nursing Report:
Does that patient have any family?
Who is the patient's primary contact if something was to happen?
Does the patient have any type of testing that they must be NPO for?
Does the patient need assistance eating, showering, or using the bathroom?
How does the patient take their pills? Swallows them or needs them crushed?
How is the patient tolerating their new medications? Any major changes in Blood Pressure, Heart Rate etc?
What PRN medications does the patient have?
Does the patient have pain? How are we controlling the pain? Medications, if so with what? When is it due next?
Can the patient go off the floor for testing without a nurse?
Is the patient a telemetry or non-monitored patient?
Does the patient leave the room and go outside?
How well does the patient walk on their own?
When was the last time the patient was out of bed?
Is the patient hard of hearing or have difficulty seeing?
Are there any outstanding doctor orders that need to be completed?
Does the patient have informed consent signed? (If patient is having surgery)
Is IV tuding dates still in date or do they need to be changed today?
Wound Care-Next Dressing Change Due?
Any concerns or requests you have about the patient?
Above are some questions that may or may not be addressed in the SBAR and are good thing to always know but may be left out in report. Remember to always ask questions when getting report. The more you know the better care you will be able to provide to your patient.