This free NCLEX practice test will quiz your nursing knowledge in Maternity nursing. Maternity nursing is a specific area of nursing that requires you to know how to take care of the pregnant female and her baby. This quiz will test you ability to analyze different situations you may encounter in the OB-GYN area.
This NCLEX quiz focuses on the obstetrical assessment. After you submit the quiz, you will be able to see what you got right and wrong with rationales.
NCLEX Practice Questions Maternity Obstetrical Assessment Nursing
This NCLEX practice test will test your knowledge on Maternity nursing during the obstetrical assessment. In order to prepare for the NCLEX exam, you must know the basics about OB nursing and be able to answer questions regarding the following:
Gestation
Pregnancy Signs
Gravidity and Parity
Fundal Height
Maternal Risk Factors
(NOTE: When you hit submit, it will refresh this same page. Scroll down to see your results.)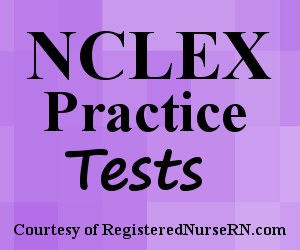 Don't forget to tell your friends about this quiz by sharing it your Facebook, Twitter, and other social media. You can also take more fun nursing quizzes.
*Disclaimer: While we do our best to provide students with accurate and in-depth study quizzes, this quiz/test is for educational and entertainment purposes only. Please refer to the latest NCLEX review books for the latest updates in nursing. This quiz is copyright RegisteredNurseRn.com. Please do not copy this quiz directly; however, please feel free to share a link to this page with students, friends, and others.