This is a free NCLEX practice test with questions to quiz your knowledge on positioning the patient. These skills are known as nursing fundamental skills and you may encounter these type of questions on the NCLEX-RN or NCLEX-PN exam.
It is important to know what the difference is between the various positions such as High-Fowler's, Semi-Fowler's, Sims, Prone, and lateral side-lying to just name a few. Patients with different type of health problems will need to be positioned in various ways to promote circulation and improve their current health condition.
Below is an NCLEX quiz for to you take to test your nursing knowledge. After the quiz, you will be able to see what you got wrong and right with rationales.
NCLEX Practice Question Test Nursing Fundamentals Positioning Patients
This NCLEX practice quiz is to test your knowledge in nursing fundamentals with positioning a patient. Many times patients need specific positioning techniques if they've had a certain type of surgery or health problem. This NCLEX test will test you nursing knowledge on position patients.
(NOTE: When you hit submit, it will refresh this same page. Scroll down to see your results.)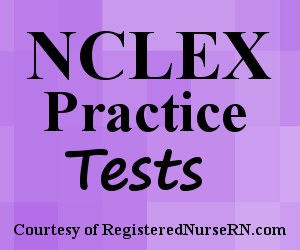 Don't forget to tell your friends about this quiz by sharing it your Facebook, Twitter, and other social media. You can also take more fun nursing quizzes.
*Disclaimer: While we do our best to provide students with accurate and in-depth study quizzes, this quiz/test is for educational and entertainment purposes only. Please refer to the latest NCLEX review books for the latest updates in nursing. This quiz is copyright RegisteredNurseRn.com. Please do not copy this quiz directly; however, please feel free to share a link to this page with students, friends, and others.