This NCLEX practice exam is designed to test your nursing knowledge on diseases or conditions that affect the skin. In the healthcare setting, you will encounter many different skin problems. For example, a patient with shingles (herpes zoster) needs to be cared for differently than a patient with cellulitis. As a new nurse, you must know the basic nursing knowledge about the integumentary system.
NCLEX Practice Exam Questions for Integumentary Skin System
This NCLEX practice test has questions that will assess your knowledge of the integumentary system (skin). The skin is at risk for many diseases such as celluitis, psoriasis, scabies, etc. As the nurse, you must know what nursing interventions and education to provide to the patient.
(NOTE: When you hit submit, it will refresh this same page. Scroll down to see your results.)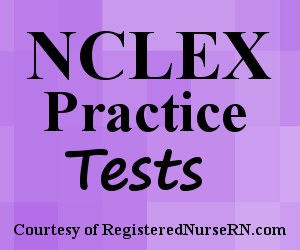 Don't forget to tell your friends about this quiz by sharing it your Facebook, Twitter, and other social media. You can also take more fun nursing quizzes.
*Disclaimer: While we do our best to provide students with accurate and in-depth study quizzes, this quiz/test is for educational and entertainment purposes only. Please refer to the latest NCLEX review books for the latest updates in nursing. This quiz is copyright RegisteredNurseRn.com. Please do not copy this quiz directly; however, please feel free to share a link to this page with students, friends, and others.