Quiz that contains NCLEX questions for myxedema coma. Myxedema coma is a complication of untreated or undiagnosed hypothyroidism. As the nurse taking care of a patient with hypothyroidism, it is important you know the typical signs and symptoms, causes, and treatments.
The NCLEX exam loves to ask questions about patient education, common side effects of medications, and major signs and symptoms the patient can exhibit with myxedema coma.
It is important to not confuse myxedema coma with thyroid storm , which is a complication of hyperthyroidism.
This quiz will test you on:
Causes of myxedema coma
Signs and symptoms of myxedema coma
Medications used to treat myxedema coma
Treatments for myxedema coma
Lecture on Myxedema Coma
Myxedema Coma Quiz
This NCLEX quiz will test your knowledge about myxedema coma which is a complication of hypothyroidism.
(NOTE: When you hit submit, it will refresh this same page. Scroll down to see your results.)
Myxedema Coma NCLEX Questions
1. Which of the following patients are MOST at risk for developing myxedema coma?
A. A 28 year old female who is prescribed Methimazole.
B. A 75 year old female who is taking Lithium and reports missing several doses of Synthroid.
C. A 69 year old male experiencing nausea and vomiting for 4 days.
D. A 55 year old male with a history of diabetes and is insulin dependent.
2. All of the following are treatments for myxedema coma EXCEPT?
A. Corticosteroids
B. IV glucose
C. Hypotonic IV solutions
D. IV Synthroid
3. A patient is receiving treatment for myxedema coma with IV Synthroid. Which of the following findings would require nursing intervention for this patient?
A. Blood glucose 75
B. Sodium level of 138
C. A physician's order for Fentanyl 0.25 mcg every 2 hours for pain
D. Temperature 98.9 'F
4. Signs and Symptoms of myxedema coma include all of the following EXCEPT? Select all that apply:
A. Fever
B. Bradycardia
C. Sodium level less than 135
D. Blood glucose level greater than 350
E. Goiter
F. Hypothermia
5. A patient taking IV Synthroid starts to complain of feeling hot and chest pain. On assessment, you find that the heart rate is 125 bpm and blood pressure is 200/103. You immediately notify the physician of the patient's condition and receive orders for lab work. Based on the patient's signs and symptoms, what is the MOST important lab result at this time to determine the cause of the patient's symptoms?
A. Potassium level
B. Thyroid levels
C. Calcium level
D. Sodium level
6. A patient is recovering from myxedema coma and will be discharged tomorrow. What will you include in their discharge teaching?
A. Avoiding green leafy vegetables.
B. Importance of taking Tapazole exactly as prescribed at the same time every day.
C. Limiting foods with Iodine such as kelp, dairy, and eggs.
D. Importance of taking Synthroid in the morning without any food.
7. Which of the following are NOT a cause of myxedema coma?
A. Illness
B. Sedatives
C. Iodine Toxicity
D. Thyroidectomy
Answer Key:
1. B
2. C
3. C
4. A, D, E
5. B
6. D
7. C
More NCLEX Endocrine Quizzes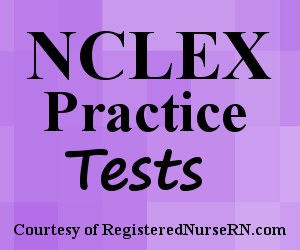 Don't forget to tell your friends about this quiz by sharing it your Facebook, Twitter, and other social media. You can also take more fun nursing quizzes.
*Disclaimer: While we do our best to provide students with accurate and in-depth study quizzes, this quiz/test is for educational and entertainment purposes only. Please refer to the latest NCLEX review books for the latest updates in nursing. This quiz is copyright RegisteredNurseRn.com. Please do not copy this quiz directly; however, please feel free to share a link to this page with students, friends, and others.