This review will cover the most common medication administration routes in nursing along with their abbreviations.
Medications can be administered through various routes, and it's important the nurse is familiar with each route. It's also important the nurse if familiar with the "lingo" or abbreviations used to describe each routes. For example, the term P.O. is used a lot in nursing to describe medications that are taken via the mouth, or IM, subQ, and IV are terms used to describe routes nurses administer medications by injection.
However, it's important that when using abbreviations with documenting or taking orders, that the nurse uses approved abbreviations set by the employer. Most employers will have a list or set of guidelines on what abbreviations are allowed vs. not allowed. Therefore, always follow your employer's guidelines, but if you're ever in doubt about an abbreviation just write it out instead of abbreviating it.
Medication Administration Routes and Abbreviations to Know as a Nurse
Routes via the Mouth
P.O. (Latin and means Per Os): by the mouth
This is the most common route nurses administer medications like capsules, tablet, and liquids.
SL: sublingual (under the tongue)
Nitroglycerin is a drug given this route that treats chest pain.
BUCC: Buccal (in between the cheek and gum)
Given via the transmucosal route
Includes certain opioid pain meds, smoking cessation products etc.
N.P.O. (Latin and means Nil Per Os): nothing by mouth
Routes via the Vein
IV: intravenous…given within the vein directly through some type of IV access
IVPB: intravenous piggyback
Two IV lines are hung and connect into some type of IV access.
One line is the main line. It consists of long tubing and has a primary fluid like normal saline in it. Then a second line which consists of shorter tubing connects (hence "piggy backs") into the main line. Many IV antibiotics are given this route.
IVP: intravenous push
A medication is withdrawn from a vial and pushed directly into a vein via IV access.
Routes via an Injection or directly on the Skin
IM: intramuscular
Medication is given directly into a muscle…example: vaccines, antibiotics, hormones etc.
ID: intradermal
Medication is injected in the dermis which is found in between the epidermis and hypodermis.
A "wheal" is created on the skin.
Used in allergy test or Mantoux TB skin test that checks for tuberculosis.
subQ : subcutaneous
Medication is injected in the subcutaneous fat/hypodermis.
Example: Insulin, anticoagulants like Heparin or Enoxaparin
TD: transdermal
medicated patch or ointment is applied to the skin
placed on the epidermis and is absorbed by the blood stream
example: Fentanyl patch (pain relief), nitro cream, or other topical creams
Miscellaneous Routes
INH: inhaled
enters the respiratory tract like inhalers, nebulizers (breathing treatments) etc.
IO: intraosseous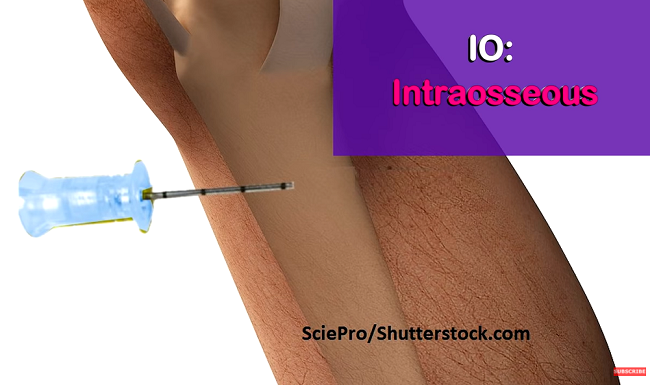 IO accessed device is placed into the marrow of the bone to give medications and fluids, which enters the vascular systems
Used in emergency situations like during a code situation when you can't obtain IV access
ETT: endotracheal tube
Used during emergency situations as well when access can't be obtained
Medications are absorbed through the alveoli and crosses over into the blood stream.
Medications that can be given through an ETT:

Lidocaine, Atropine, Naloxone, Epinephrine, Diazepam "Laned"
RECT or PR: rectally or per rectum
VAG or PV: vaginally or per vagina
Eye: write it out and designate right or left eye or both eyes
O.S. O.D. O.U. abbreviations no longer recommended…write it out
Ear: write it out and designate right or left ear or both ears
A.S., A.D., A.U. abbreviations for eyes no longer recommended…write it out
Nose: nasally…designate which nostril or both nostrils
Medication squirted in nose
NGT: nasogastric tube
This is a tube that is inserted through the nose, into the esophagus, and sits in the stomach.
PEG: percutaneous endoscopic gastrostomy
This is a tube that is surgically inserted through the skin and into the stomach.
Test your knowledge with this medication administration routes and abbreviation quiz.