This lung anatomy and physiology quiz will test your knowledge on the respiratory system. As a nurse, it is important you know the basics about lung anatomy and the physiology of gas exchange because it will help you understand respiratory disorders.
The NCLEX exam loves to ask questions about respiratory disorders, therefore, it is important you know the basics about lung anatomy and physiology. This quiz is part of an NCLEX respiratory review series. So, be sure to check out those videos, review notes, and quizzes.
This quiz will test you on:
Lung Anatomy
Components of breathing
The flow of inhaled and exhaled air
Gas exchange
Lecture on Lung Anatomy and Physiology
(NOTE: When you hit submit, it will refresh this same page. Scroll down to see your results.)
Quiz on Lung Anatomy and Physiology
1.       True or False: The left lung has three lobes and the right lung has two lobes.
2.       The inner layer that surrounds the lung itself is called the?
A. Parietal Pleura
B. Visceral pleura
C. Pleuracardium
D. Lobar Bronchi
3. The trachea splits at the _________ to form the ____________.
A. Cricoid cartilage, secondary bronchi
B. Thyroid cartilage, primary bronchi
C. Carina, primary bronchi
D. Hilum, secondary bronchi
4. Gas exchange in the lungs occurs in the?
A. Bronchioles
B. Alveolar sinus
C. Alveolar sacs
D. Segmental Bronchi
5. ______________ delivers unoxygenated blood to the lungs.
A. Pulmonary vein
B. Aorta
C. Left ventricle
D. Pulmonary artery
6. The right & left bronchus along with the pulmonary artery & vein enter into the lungs at the?
A. Hilum
B. Carina
C. Alveolar ducts
D. Right middle lobe
7. True or False: During inhalation, the diaphragm contracts upward to create a positive pressure in the chest which allows the body to inhale oxygen.
8. True or False: During gas exchange, carbon dioxide is transported across the capillary membrane to be exhaled while oxygen is transported across the capillary membrane to attach to the red blood cells.
9. Everything below is part of the lower respiratory system EXCEPT?
A. Trachea
B. Carina
C. Pharynx
D. Bronchioles
E. Nasal cavities
10. True or False: Inhaled oxygen travels down through the trachea, into the right and left bronchus, then into the segmental bronchi which branches even further into the lobar bronchi.
Answer Key:
1. False
2. B
3. C
4. C
5. D
6. A
7. False
8. True
9. C, E
10. False
More NCLEX Quizzes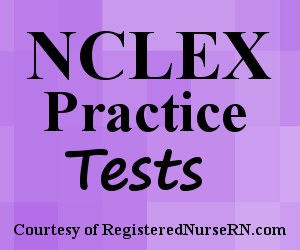 Don't forget to tell your friends about this quiz by sharing it your Facebook, Twitter, and other social media. You can also take more fun nursing quizzes.
*Disclaimer: While we do our best to provide students with accurate and in-depth study quizzes, this quiz/test is for educational and entertainment purposes only. Please refer to the latest NCLEX review books for the latest updates in nursing. This quiz is copyright RegisteredNurseRn.com. Please do not copy this quiz directly; however, please feel free to share a link to this page with students, friends, and others.