This is a quiz that contains NCLEX questions for endocarditis. Endocarditis is inflammation of the endocardium which mainly affects the heart valves. In the previous NCLEX review series, I explained about other cardiovascular disorders so be sure to check those reviews out.
There are different types of endocarditis, such as infective and non-infective endocarditis. Infective endocarditis (IE) can be divided into two types (acute and subacute).  As the nurse, it is important to know how to care for a patient with endocarditis. In addition, the nurse needs to be aware of the causes, risk factors, and management of endocarditis, specifically infective endocarditis..
The NCLEX exam loves to ask questions about patient education,major signs and symptoms, and the different types of endocarditis.
This quiz will test you on:
Causes of endocarditis
Signs and symptoms of endocarditis
Types of endocarditis
Patient education about endocarditis
Nursing management of endocarditis
Endocarditis NCLEX Questions
This quiz will test you on the condition known as endocarditis along with the nursing implications for the NCLEX exam.
(NOTE: When you hit submit, it will refresh this same page. Scroll down to see your results.)
NCLEX Questions for Endocarditis
1. True or False: Endocarditis only affects the atrioventricular and semi-lunar valves in the heart.
2. Which of the following patients are MOST at risk for developing endocarditis? Select-all-that-apply:
A. A 25 year old male who reports using intravenous drugs on a daily basis.
B. A 55 year old male who is post-opt from aortic valve replacement.
C. A 63 year old female who is newly diagnosed with hyperparathyroidism and is taking Aspirin.
D. A 66 year old female who recently had an invasive dental procedure performed 1 month ago and is having a fever.
3. A patient is receiving treatment for infective endocarditis. The patient has a history of intravenous drug use and underwent mitral valve replacement a year ago. The patient is scheduled for a transesophageal echocardiogram tomorrow. On assessment, you find tender, red lesions on the patient's hands and feet. You know that this is a common finding in patients with infective endocarditis and is known as?
A. Janeway Lesions
B. Roth Spots
C. Osler's Nodes
D. Trousseau's Sign
4. A 30 year old female is being treated for infective endocarditis with IV antibiotics. At the beginning of the hospitalization, the patient's symptoms were severe and sudden with a high fever but are now controlled. She has no significant health history other than 2 cesarean sections in the past. She is being prepped for a central line placement so she can be discharged home with home health to continue the 4 week antibiotic regime. What type of infective endocarditis is this classified as based on the information listed?
A. Acute Infective Endocarditis
B. Subacute Infective Endocarditis
C. Non-infective endocarditis
D. Pericarditis
5. A patient is admitted with sepsis. The patient has a temperature of 104.2 'F and is experiencing chills. On assessment, you note a mitral murmur which the patient states they've never had before, and dark, small lines on the patient's fingernails. The patient has a history of IV drug use in the past. However, the patient states they are no longer using drugs. The physician suspects possible infective endocarditis. What diagnostic test do you expect the physician to order in order to confirm the presence of infective endocarditis?
A. Abdominal ultrasound
B. Heart catheterization
C. Transesophageal echocardiogram
D. White blood cell count
6. Select-all-that-apply: What are the typical signs and symptoms of infective endocarditis?
A. Hyperthermia
B. S4 gallop
C. Enlarged Spleen
D. Hyperkalemia
E. Substernal pain that radiates to the back
F. Heart failure
G. Cardiac Murmur
7. You're providing discharge teaching to a patient being treated for endocarditis. Which statement by the patient demonstrated they understood your teaching about this condition?
A. "I will stop taking the antibiotics once my fever is gone in order to prevent antibiotic resistance."
B. "I will only wash my hands with soap and water."
C. "I will inform my dentist about my history of endocarditis prior to any invasive procedures."
D. "I will avoid eating fish and organ meats."
8. A patient being treated for infective endocarditis is complaining of very sharp radiating abdominal pain that goes to the left shoulder and back. As the nurse familiar with complications of infective endocarditis, what do you suspect is the cause of this patient finding?
A. Renal embolic event
B. Pulmonary embolic event
C. Central nervous system embolic event
D. Splenic embolic event
9. A patient with endocarditis has listed in their medical history "Roth Spots". You know that this is a complication of infective endocarditis and presents as?
A. Non-tender spots found on the feet and hands
B. Red and tender lesions found in the eyes
C. Retinal hemorrhages with white centers
D. Purplish spots found on the forearms and groin
Answer Key:
1. False
2. A, B, D
3. C
4. A
5. C
6. A, C, F, G
7. C
8. D
9. C
More NCLEX Quizzes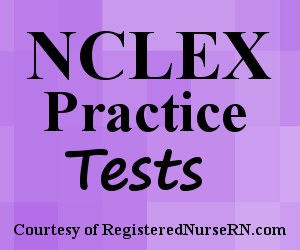 Don't forget to tell your friends about this quiz by sharing it your Facebook, Twitter, and other social media. You can also take more fun nursing quizzes.
*Disclaimer: While we do our best to provide students with accurate and in-depth study quizzes, this quiz/test is for educational and entertainment purposes only. Please refer to the latest NCLEX review books for the latest updates in nursing. This quiz is copyright RegisteredNurseRn.com. Please do not copy this quiz directly; however, please feel free to share a link to this page with students, friends, and others.