This page contains a dosage and calculations quiz for IV drug bolus. As a nursing student you will be tested on calculating IV drug preparations. It is important to learn how to calculate IV drug administration for passing nursing school, preparing for NCLEX, and on the job as a nurse.
This quiz will test your ability on how to calculate the amount of an IV medication you should draw up and give as an IV bolus based on the doctor's order versus what you are supplied with from the pharmacy.
At the end of the quiz you will receive a grade and be shown what problems you got right and wrong. For more dosage and calculation quizzes be sure to check out our other quizzes.
Video Tutorial on How to Solve IV Bolus Drug Problems
Before you take the quiz, you can watch a video tutorial on how to solve basic metric conversions using dimensional analysis. Sarah BSN, RN does a great job explaining how to solve these type of math problems.
*If you need some more practice with dosage and calculation problems here are some great study guides
 we recommend.
*See disclosure at the end of this quiz.
IV Drug Dosage & Calculation Quiz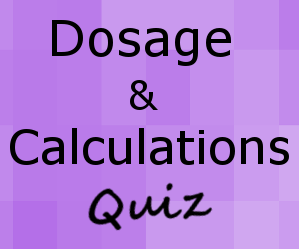 Dosage & Calculation Drug Quizzes for IV Bolus
This is a dosage and calculation drug dosage quiz for IV drug bolus. This quiz will help nursing students and nurses practice solving drug calculations.
NOTE: After submitting your quiz this page will refresh and you will need to SCROLL down so you can view your answers.
*Disclosure: The items recommended in this article are recommendations based on our own honest personal opinion and experience. We are an affiliate with Amazon.com, and when you buy the products recommended by us, you help support this site.