This is a quiz that contains NCLEX review questions for cystic fibrosis. Cystic fibrosis is a genetic condition that can cause complications with the respiratory gastrointestinal, and reproductive systems along with affecting the skin's sweat glands.
In the previous NCLEX review series, I explained about other pediatric disorders, so be sure to check those reviews out too.
As the nurse, it is important to know how to care for a patient with cystic fibrosis. In addition, the nurse needs to know the complications, signs and symptoms, testing procedures, medications used to treat, and nursing interventions for cystic fibrosis.
Don't forget to watch the lecture on cystic fibrosis before taking the quiz.
Cystic Fibrosis NCLEX Questions
This quiz will test your knowledge on cystic fibrosis in preparation for the NCLEX exam.
(NOTE: When you hit submit, it will refresh this same page. Scroll down to see your results.)

Cystic Fibrosis NCLEX Questions
1. Cystic fibrosis (CF) is a genetic disorder that causes the endocrine glands to work incorrectly.
False: Cystic fibrosis (CF) is a genetic disorder that causes the EXOCRINE (not endocrine) glands to work incorrectly. Exocrine glands are glands that produce and transfer its secretions (ex: mucous, tears, sweat, digestive enzymes) via DUCTS to an intended area of the body, rather than directly into the bloodstream. This is different from endocrine glands that don't have ducts but directly secrete chemicals (like hormones) directly into the blood.
2. Select the systems below that are affected by cystic fibrosis:
A. Reproductive
B. Lymphatic
C. Respiratory
D. Gastrointestinal
E. Neuro
F. Integumentary
The answers are A, C, D and F. Cystic fibrosis affects the respiratory system (this causes thick mucus to build up in the lungs and it can affect both the upper and lower respiratory system like the sinuses), gastrointestinal (pancreas, intestines, and liver are all affected due to thick mucus), and integumentary (skin's sweat glands will make extremely salty sweat).
3. You're educating the parents of an 8-month-old, who was recently diagnosed with cystic fibrosis, about the disease. You explain to the parents that the child has a gene mutation on the ____________. The gene that is specifically mutated is called?
A. endocrine glands; Hbg S gene
B. exocrine glands; CFTR gene
C. endocrine glands; Chromosome 21
D. exocrine glands; HTT gene
The answer is B. Cystic fibrosis affects the EXOCRINE glands, specifically the Cystic Fibrosis Transmembrane Regulator gene (CFTR). This is a protein that controls the channels of sodium and chloride…hence the sodium and water transport in and out of the cell. These channels are within the membrane of these cells that makes our sweat, mucous, tears, digestive enzymes. Since it is mutated the fluids that are normally thin now become very thick and sticky, which causes many problems in the organs like the lungs, pancreas, intestine etc.
4. Cystic fibrosis is an autosomal recessive genetic disorder. Which option below best describes what most likely happens for a child to develop this condition?
A. One parent, who is a carrier of the mutated gene, has to pass it to the child
B. One of the parents has to have cystic fibrosis in order to pass it to their offspring
C. Both of the parents must have cystic fibrosis in order for the child to develop it
D. Both parents, who are carriers of the mutated gene, each pass one mutated gene to the child
The answer is D. CF is an autosomal recessive genetic disorder. This means that both of the parents are carriers of the disease (they won't have signs and symptoms of CF). They each have one healthy gene and one mutated gene. For CF to occur in their offspring, the parents will have to each pass ONE of the mutated genes to the child. In this case, it will be the CFTR gene….so the child receives one mutated gene from each parent and this leads to the child to develop CF.
5. You're providing care to an 18-year-old male who has cystic fibrosis. Select all the possible complications this patient can experience due to cystic fibrosis:
A. Blood glucose 255 mg/dL
B. Hearing disturbances
C. Hemoptysis
D. Greasy, foul smelling stools
E. Weight gain
F. Meconium ileus
G. Excessive mucus production
H. Dyspnea
I. Coughing
J. Hyperoxemia
K. Infertility
The answers are: A, C, D, G, H, I, and K. All these are complication of cystic fibrosis. Option B: hearing disturbances not common, Option E: weight LOSS rather than gain due to the inability to digest food due to lacking pancreatic enzymes, Option F: this only occurs in infants…remember meconium is the first "bowel movement" an infant experiences after birth…this patient here is 18-years-old, and Option J: high oxygen in the blood….no but rather low because of the thick mucus blocking air flow in the lungs, which will lead to hypoxia.
6. You're discussing nutrition with your patient who has cystic fibrosis. You explain that it is very important the patient regularly takes fat-soluble vitamins. This includes:
A. Vitamin B
B. Vitamin D
C. Vitamin C
D. Vitamin K
E. Vitamin E
F. Vitamin A
The answers are: B, D, E, and F. Vitamins that are fat-soluble are Vitamin D, E, K, A….remember the word DEKA!
7. About one hour after eating a meal, your patient, who has cystic fibrosis, starts to experience abdominal pain and bloating. Then two hours later the patient has a bowel movement. The patient's stool appears to be greasy and have a foul odor. Which medication below that is being taken by the patient is not providing a desirable outcome for this patient and needs to be re-addressed by the physician?
A. Guaifenesin
B. Triamcinolone
C. Pancrelipase
D. Polyethylene Glycol
The answer is C. Patients with CF need pancreatic enzymes because these enzymes that would normally leave the pancreas can't because of thick mucus. Therefore, they must take a supplementation form of them. The pancreatic enzymes (protease, amylase, and lipase) help digest protein, fats etc. If a patient does not have enough present in the body to aid in digestion, they will start to have abdominal bloating/pain, greasy/foul smelling stools along with weight loss, and vitamin deficiency. The only pancreatic enzyme listed is Pancrelipase. Therefore, the MD needs to re-address the pancreatic enzyme supplementation because the patient is still having issues with digesting these important substances.
8. A patient with cystic fibrosis is diagnosed with pancreatic insufficiency. As the nurse you know that the patient will be lacking:
A. Amylase
B. Pepsin
C. Protease
D. Maltase
E. Lipase
The answers are A, C, and E. The patient with CF, who has pancreatic insufficiency, will lack the ability to use pancreatic digestive enzymes such as Amylase, Protease, and Lipase. Remember PAL (they are lacking a PAL). Remember thick mucus is blocking the duct that allows these enzymes to enter the duodenum to aid in digestion.
9. A patient completed a sweat test yesterday. The results are back and are 45 mmol/L. As the nurse you know this means:
A. The patient tested positive for cystic fibrosis.
B. The patient tested negative for cystic fibrosis.
C. The patient needs further testing because results are not conclusive.
The answer is C. A sweat test is gold standard in testing for cystic fibrosis. The result interpretations are the following:
39 mmol/L or less in patients 6 months or older are NEGATIVE for cystic fibrosis
40 to 59 mmol/L needs further testing, not conclusive
60 or more mmol/L POSITIVE for cystic fibrosis
10. The physician orders chest physiotherapy on your patient with cystic fibrosis. This is best performed:
A. immediately after a meal
B. right before a meal
C. 1-2 hours after a meal
D. only at bedtime
The answer is C. It is best to perform CPT 1-2 hours after a meal (in between meals). You wouldn't want to do it immediately after a meal due to aspiration or vomiting risk OR right before because this can alter a patient's appetite due to the mucous that will be expelled (the mucous can have a foul taste or odor to it), and option D is wrong because CPT is done up to 2-4 times a day NOT only at bedtime.
11. You're assisting a patient with performing chest physiotherapy. It is very important you have the patient ___________ during the therapy sessions.
A. bear down
B. use the incentive spirometer
C. huff cough
D. use a peak flow meter
The answer is C. This is a special type of coughing that will help the patient cough up the mucous during the CPT. It is very important the patient performs this during their CPT sessions.
12. The physician gives an order for a patient with cystic fibrosis to use a positive expiratory pressure (PEP) device to help with airway clearance. As the nurse you will order which device from supply:
A. Incentive spirometer
B. Bipap
C. Peak flow meter
D. Flutter valve
The answer is D. This device assists with moving mucous from the lungs to the airway so it can be expelled. Another device that does this is called an Acapella.
13. A patient is scheduled to take Pancreatin. When will you administer this medication to the patient?
A. Right before all meals and snacks
B. Right before meals only
C. Immediately after meals and snacks
D. Immediately after meals only
The answer is A. Pancreatin is a pancreatic enzyme and the patient needs to take it right before ALL meals and snacks.
14. A 2 year-old patient with cystic fibrosis is scheduled to take Pancrelipase. How will you administer this medication?
A. orally with yogurt
B. orally with pudding
C. orally with applesauce
D. orally with ice cream
The answer is C. Pancrelipase is a pancreatic enzyme and should be given in an acidic food like apple sauce. A two-year-old can NOT swallow pills, so the medication capsule must be opened and sprinkled in food. Never crush or chew the medication. Also, never mix it in an alkaline food or milk-based food like yogurt, pudding, or ice cream…..this will inactivate the enzymes.
More NCLEX Quizzes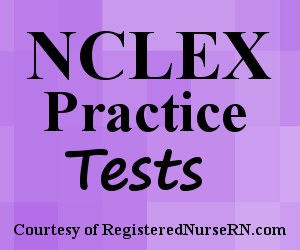 Don't forget to tell your friends about this quiz by sharing it your Facebook, Twitter, and other social media. You can also take more fun nursing quizzes.
*Disclaimer: While we do our best to provide students with accurate and in-depth study quizzes, this quiz/test is for educational and entertainment purposes only. Please refer to the latest NCLEX review books for the latest updates in nursing. This quiz is copyright RegisteredNurseRn.com. Please do not copy this quiz directly; however, please feel free to share a link to this page with students, friends, and others.