This is a quiz that contains NCLEX review questions about COPD (chronic obstructive pulmonary disease). Patients who have COPD are experiencing limited airflow due to obstructive pulmonary disease. COPD limits gas exchange which can lead to serious complications that affect the rest of body, such as the heart.
In the previous NCLEX review series, I explained about other respiratory disorders, so be sure to check those reviews out.
As the nurse, it is important to know how to care for a patient with COPD. In addition, the nurse needs to be aware of the causes, risk factors, and management of COPD.
The NCLEX exam loves to ask questions about patient education, major signs and symptoms, and the different types of COPD.
This quiz will test you on:
Types of COPD
Signs and Symptoms of COPD
Nursing Interventions
Medications Used in COPD
Patient Education
Lecture Videos
COPD NCLEX Questions
This quiz will test your knowledge about COPD (chronic obstructive pulmonary disease) in preparation for the NCLEX exam.
(NOTE: When you hit submit, it will refresh this same page. Scroll down to see your results.)
COPD NCLEX Questions
1. True or False: COPD is reversible and tends to happens gradually.
2. A patient is presenting with chronic obstructive pulmonary disease. The patient has a chronic productive cough with dyspnea on excretion. Arterial blood gases show a low oxygen level and high carbon dioxide level in the blood. On assessment, the patient has cyanosis in the lips and edema in the abdomen and legs. Based on your nursing knowledge and the patient's symptoms, you suspect the patient suffers from what type of COPD?
A. Emphysema
B. Pneumonia
C. Chronic bronchitis
D. Pneumothorax
3. A patient with emphysema may present with all of the following symptoms EXCEPT?
A. Barrel chest
B. Hyperinflation of the lung
C. Hypoventilation
D. Hypercapnia
4. The term blue bloater is used to describe patients with?
A. Pulmonary hypertension
B. Left-sided heart failure
C. Chronic Bronchitis
D. Emphysema
5. A patient is newly diagnosed with COPD due to chronic bronchitis. You're providing education to the patient about this disease process. Which statement by the patient indicates they understood your teaching about this condition?
A. "If I stop smoking, it will cure my condition."
B. "Complications from this condition can lead to pulmonary hypertension and right-sided heart failure."
C. "I'm at risk for low levels of red blood cells due to hypoxia and may require blood transfusions during acute illnesses."
D. "My respiratory system is stimulated to breathe due to high carbon dioxide levels rather than low oxygen levels, as with people who have healthy lungs.
6. An alarm beeps notifying you that one of your patient's oxygen saturation is reading 89%. You arrive to the patient's room, and see the patient comfortably resting in bed watching television. The patient is already on 2 L of oxygen via nasal cannula. The patient is admitted for COPD exacerbation. Your next nursing action would be:
A. Continue to monitor the patient
B. Increase the patient's oxygen level to 3 L
C. Notify the doctor for further orders
D. Turn off the alarm settings
7. You are providing teaching to a patient with chronic COPD on how to perform diaphragmatic breathing. This technique helps do the following:
A. Increase the breathing rate to prevent hypoxemia
B. Decrease the use of the abdominal muscles
C. Encourages the use of accessory muscles to help with breathing
D. Strengthen the diaphragm
8. A patient with severe COPD is having an episode of extreme shortness of breath and requests their inhaler. Which type of inhaler ordered by the physician would provide the FASTEST relief for the patient based on this particular situation?
A. Spiriva
B. Salmeterol
C. Symbicort
D. Albuterol
9. Which of the following statements are incorrect about discharge teaching that you would provide to a patient with COPD? Select-all-that-apply:
A. "It is best to eat three large meals a day that are relatively low in calories."
B. "Avoid going outside during extremely hot or cold days."
C. "It is important to receive the Pneumovax vaccine annually."
D. "Smoking cessation can help improve your symptoms."
10. A patient is ordered by the physician to take Pulmicort and Spiriva via inhaler. How should the patient take this medication?
A. The patient should use the medications every 2 hours for acute episodes of shortness of breath.
B. The patient should use the Spiriva first and then 5 minutes later the Pulmicort.
C. The patient should use the Pulmicort first and then the Spiriva 5 minutes later.
D. The patient should use the medications at the same exact time, regardless of the order.
11. In regards to question 10, which action by the patient demonstrates they know how to properly use this medication?
A. The patient rinses their mouth after using the Spiriva inhaler.
B. The patient rinses their mouth after using the Pulmicort inhaler.
C. The patient dispenses of the inhalers.
D. The patient coughs 2 times after using the Pulmicort inhaler.
12. A patient with COPD is reporting depression and thoughts of suicide. The patient states, "I just feel like ending it all." You assess the patient's health history and note that the patient was recently started on which medication that could cause this side effect:
A. Atrovent
B. Prednisone
C. Roflumilast
D. Theophylline
13. A patient is ordered at 1400 to take Theophylline. You're assessing the patient's morning lab results and note that the Theophylline level drawn this morning reads: 15 mcg/mL. You're next nursing action is to?
A. Administer the dose at 1400 as ordered
B. Notify the physician for further orders
C. Hold the 1400 dose
D. Collect another blood sample to confirm the level
14. You are providing care to a patient with COPD who is receiving medical treatment for exacerbation. The patient has a history of diabetes, hypertension, and hyperlipidemia. The patient is experiencing extreme hyperglycemia. In addition, the patient has multiple areas of bruising on the arms and legs. Which medication ordered for this patient can cause hyperglycemia and bruising?
A. Prednisone
B. Atrovent
C. Flagyl
D. Levaquin
Answer Key:
1. False
2. C
3. C
4. C
5. B
6. A
7. D
8. D
9. A, C
10. B
11. B
12. C
13. A
14. A
More NCLEX Quizzes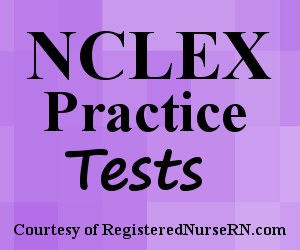 Don't forget to tell your friends about this quiz by sharing it your Facebook, Twitter, and other social media. You can also take more fun nursing quizzes.
*Disclaimer: While we do our best to provide students with accurate and in-depth study quizzes, this quiz/test is for educational and entertainment purposes only. Please refer to the latest NCLEX review books for the latest updates in nursing. This quiz is copyright RegisteredNurseRn.com. Please do not copy this quiz directly; however, please feel free to share a link to this page with students, friends, and others.