This is a quiz that contains NCLEX review questions for Celiac Disease. As a nurse providing care to a patient with Celiac Disease, it is important to know the signs and symptoms, pathophysiology, nursing management, diet education, and complications.
In the previous NCLEX review series, I explained about other GI disorders you may be asked about on the NCLEX exam, so be sure to check out those reviews and quizzes as well.
Celiac Disease NCLEX Practice Questions
This quiz will test your knowledge on Celiac Disease in preparation for the NCLEX exam.
(NOTE: When you hit submit, it will refresh this same page. Scroll down to see your results.)

Celiac Disease NCLEX Questions
1. You're educating a group of nursing students about the pathophysiology of Celiac Disease. You ask the group to identify the specific protein that plays a role in the immune reaction experienced in Celiac Disease. Which answer is correct?
A. Zein
B. Globulins
C. Gliadins
D. Glutamate
2. A patient is suspected to be suffering from Celiac Disease. The physician orders an endoscopy. If the patient has Celiac Disease, what finding will be discovered with the endoscopy?
A. Over exaggerated intestinal villi
B. Ulcerations in the small intestine, specifically the Jejunum
C. Flat intestinal villi
D. Cobble-stone appearance throughout the small intestine
3. Which of the following is not an anti-body blood test ordered by a physician to diagnose Celiac Disease?
A. Antinuclear antibody (ANA)
B. Tissue Transglutaminase Antibodies (tTG-IgA)
C. IgA Endomysial antibody (EMA)
D. IgA serum
4. A patient, who was recently diagnosed with Celiac Disease, has blister type bumps on the elbow and knees. The patient reports it is extremely itchy. As the nurse, you know this is as known as:
A. Seborrheic Dermatitis
B. Psoriasis
C. Dyshidrotic Eczema
D. Dermatitis Herpetiformis
5. During an outpatient clinic visit, a female patient reports feeling abdominal bloating/pain, and diarrhea when eating foods that contain wheat or rye. The patient states her mother was diagnosed with Celiac Disease 5 years ago. What other symptoms will you assess the patient for that can be present in Celiac Disease? SELECT-ALL-THAT-APPLY:
A. Unexplained Weight loss
B. Jelly-like stools
C. Mouth ulcers
D. Menstrual irregularities
E. Pain at McBurney's Point
F. Ribbon-like stools
G. Inability to tolerate dairy products
H. Enamel changes
6. Your patient was admitted 3 days ago for treatment of severe malnourishment secondary to Celiac Disease. The patient is doing well and will be discharged tomorrow. When you arrive to the patient's room, the patient's friends and family are visiting and have brought dinner for the patient. Which food item below should the patient avoid consuming?
A. Pork barbeque sandwich
B. Steak and steamed broccoli
C. Braised chicken with carrots
D. Vegetables and rice
7. Gliadin is a wheat prolamin, which is a plant storage protein that is high in the amino acids particularly ____________  and ___________.
A. lysine and proline
B. glutamine and cysteine
C. gliadin and gluten
D. proline and glutamine
8. You're helping a mother, whose child was recently diagnosed with Celiac Disease, read food labels. Which items below, if listed as the ingredients, should the mother avoid feeding her child?
A. Millet
B. Wheat
C. Malt
D. Corn
E. Buckwheat
F. Rye
Answer Key
1. C
2. C
3. A
4. D
5. A, C, D, G, H
6. A
7. D
8. B, C, F
More NCLEX Quizzes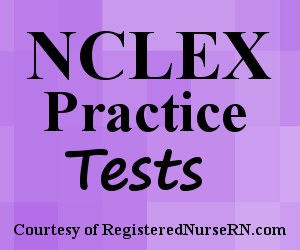 Don't forget to tell your friends about this quiz by sharing it your Facebook, Twitter, and other social media. You can also take more fun nursing quizzes.
*Disclaimer: While we do our best to provide students with accurate and in-depth study quizzes, this quiz/test is for educational and entertainment purposes only. Please refer to the latest NCLEX review books for the latest updates in nursing. This quiz is copyright RegisteredNurseRn.com. Please do not copy this quiz directly; however, please feel free to share a link to this page with students, friends, and others.