In anatomy and physiology, the anatomical body planes and sections help us understand the various ways in which the body can be viewed when cut into sections. They are especially important to know if you plan to enter a healthcare field that involves analyzing images from MRI machines and other types of imaging equipment.
When thinking of a body plane, picture an imaginary flat surface resembling a glass rectangle, which divides the body into two portions.
Four Types of Body Planes
There are four major types of body planes, and an easy way to remember them is to remember the acronym "SOFT," which stands for
Sagittal
Oblique
Frontal
Transverse
Two of these planes are vertical (sagittal and frontal), running from top to bottom. One plane is horizontal (transverse), and the oblique planes are all the "odd" angles in between the horizontal and vertical angles.
Sagittal Planes (Midsagittal and Parasagittal)
A sagittal plane runs vertically from top to bottom (and front to back), and it divides the body into a left and right portion. This is easy to remember because on your skull you have what's called a sagittal suture, which divides it into left and right sides. And that's exactly what this plane does: it divides the body into right and left sides when viewed from the anatomical position. You can take sagittal planes a step further and add a prefix to help you identify the type of sagittal plane.
A "Midsagittal" or "median" plane is a sagittal plane that perfectly divides the body down the midline. The prefix "mid" can remind you that it is right down the middle. A "parasagittal" plane is any sagittal plane that does not run perfectly down the midline of the body.
Oblique Planes
An oblique plane is a plane that can literally be any type of angle other than a horizontal or vertical angle. In fact, the word "oblique" means that something is not parallel or a right angle. An easy way to remember this is to remember "obliques are odd angles." You can also think about your oblique muscles. These muscles come down at an angle and are located laterally to your abdominal muscles.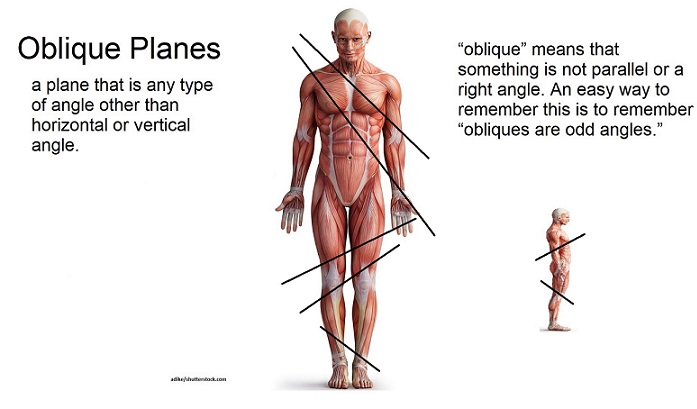 Transverse Planes (Horizontal or Axial Planes)
A transverse plane (also called a horizontal plane) is easy to remember because it is the only plane that runs horizontally, dividing the body or structure into a top (superior) and bottom (inferior) half. To remember it, let the name help you out: the prefix trans means "across." Think of Transatlantic airlines flying you across the Atlantic Ocean. Alternatively, think of the horizon, which is the horizontal boundary between the earth and the sky, and you'll remember the direction of the horizontal (transverse) plane.
Frontal (Coronal) Planes
The frontal plane (also called coronal plane) is a plane that runs vertically from top to bottom (and left to right), and it divides the body into a front (anterior) portion and a back (posterior) portion. Again, let the name help you. The frontal plane will literally leave you with a front and back section!
Ready to test your knowledge? Take our free body planes and sections quiz. We have a whole section of anatomy topics that we'll be adding in the future, as well as an Anatomy and Physiology playlist, so be sure to subscribe to our YouTube channel.