Learn about the ABCDE assessment to detect melanoma skin cancer! The ABCDE assessment is an acronym tool used to help nurses and patients assess suspicious moles that may be melanoma.
As a nursing student prepping for your exam on the integumentary system or oncological disorders, you will want to be familiar with the ABCDE assessment.
What is Melanoma?
Melanoma is the most aggressive type of skin cancer that has a high risk of metastasis. However, if detected early, it can be treated. This is why it is very important the nurse educates the patient about performing MONTHLY self-assessments of the skin using the ABCDE acronym.
Melanoma occurs when melanocytes turn cancerous. Melanocytes are special cells that are found in the stratum basale layer of the epidermis. These cells can also be found in other parts of the body, such as the eye etc. These cells produce melanin which helps give our skin, hair, and eyes their color.
What is the ABCDE Assessment for Melanoma?
To perform the ABCDE assessment, the nurse will thoroughly assess the skin from head-to-toe (this includes the palms of the hands and soles of the feet) for any suspicious lesions and apply the ABCDE acronym tool to each lesion.
It is important the nurse assesses the patient for any areas on the skin that don't heal, feel itchy, or have changed color, shape, or size because this could indicate skin cancer.
ABCDE stands:
Asymmetrical: if you draw an imaginary line in the middle of lesion, it should look the same on each side. It is asymmetrical if it doesn't look the same.
Border that is uneven (example: jagged).
Color that is dark black or contains multiple colors.
Diameter is greater than 6 mm.
Evolution (changes) in size, shape, and color (ask the patient about this).
If the characteristic above present, this could indicate melanoma. The nurse should report the findings to the physician, who will order a skin biopsy to confirm a diagnosis.
Here are some illustrations to help you apply the ABCDE assessment to a suspicious mole: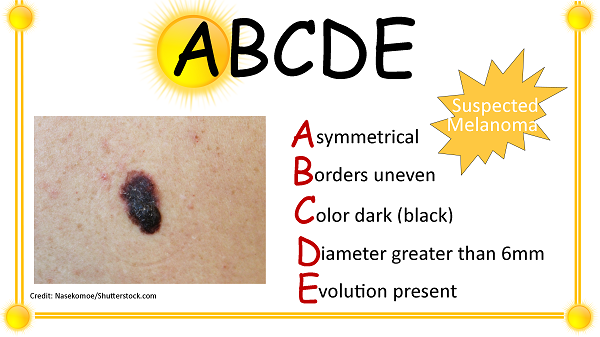 Lecture on the ABCDE Assessment for Melanoma
You may be interested in skin cancer NCLEX questions.
References:
What Are the Symptoms of Skin Cancer? | CDC. Retrieved from https://www.cdc.gov/cancer/skin/basic_info/symptoms.htm