This is a quiz that contains NCLEX review questions for ulcerative colitis. As a nurse providing care to a patient with ulcerative colitis, it is important to know the classic signs and symptoms of ulcerative colitis, types of ulcerative colitis, medications used to treat the condition, the complications, treatments, and nursing interventions.
In the previous NCLEX review series, I explained about other GI disorders you may be asked about on the NCLEX exam, so be sure to check out those reviews and quizzes as well.
(NOTE: When you hit submit, it will refresh this same page. Scroll down to see your results.)

Ulcerative Colitis NCLEX Questions
1. True or False: Ulcerative colitis is a type of inflammatory bowel disease that causes inflammation and ulcer formation in the inner lining of the small intestine, specifically the terminal ileum.
2. A patient is admitted with ulcerative colitis. In the physician's notes, it is stated that the patient's barium enema results showed the patient has colitis that starts in the rectum and extends into the sigmoid and descending colon. As the nurse, you know that this is what type of ulcerative colitis?
A. Right-sided colitis
B. Proctosigmoiditis
C. Ulcerative procotitis
D. Left-sided colitis
3. You're educating a group of outpatients about signs and symptoms of ulcerative colitis. Which of the following are NOT typical signs and symptoms of ulcerative colitis? SELECT-ALL-THAT-APPLY:
A. Rectal Bleeding
B. Abdominal mass
C. Bloody diarrhea
D. Fistulae
E. Extreme Hungry
F. Anemia
4. A patient diagnosed with pancolitis is experiencing extreme abdominal distension, pain 10 on 1-10 scale in the abdomen, temperature of 103.6 'F, HR 120, and profuse diarrhea. What complication due you suspect the pain is experiencing?
A. Fistulae
B. Stricture
C. Bowel obstruction
D. Toxic megacolon
5. A patient is newly diagnosed with mild ulcerative colitis. What type of anti-inflammatory medication is typically prescribed as first line treatment for this condition?
A. 5-Aminosalicylates (Sulfasalazine)
B. Immunomodulators (Adalimumab)
C. Corticosteroids (Prednisone)
D. Immunosupressors (Azathioprine)
6. You're providing education to a patient with severe ulcerative colitis about Adalimumab. Which statement by the patient is CORRECT?
A. "This medication is used as first-line treatment for ulcerative colitis."
B. "My physician will order a TB skin test before I start taking this medication."
C. "This medication works by increasing the tumor necrosis factor protein which helps decrease inflammation."
D. "This medication is a corticosteroid. Therefore, I need to monitor my blood glucose levels regularly."
7. A patient is receiving treatment for ulcerative colitis by taking Azathioprine. Which physician's order would the nurse question if received?
A. Ambulate the patient twice day
B. Low-fiber and high-protein diet
C. Administer varicella vaccine intramuscularly
D. Administer calcium carbonate by mouth daily
8. A patient with ulcerative colitis is scheduled for ileoanal anastomosis  (J-Pouch) surgery. You know that this procedure:
A. Removes the colon and rectum which allows a pouch to be created that will attach to the ileum. This will allow stool to pass from the small intestine to the anus.
B. Removes the colon and rectum and creates a permanent ileostomy.
C. Removes the colon and creates a temporary colostomy.
D. Removes the rectum which allows a pouch to be created from the colon. This will allow stool to pass from the colon to the anus.
9. True or False: NSAIDs are used as first-line treatment for pain relief with patients with ulcerative colitis.
10. You're providing diet teaching to a patient with ulcerative colitis about what types of foods to avoid during a "flare-up". Which foods below should the patient avoid? SELECT-ALL-THAT-APPLY:
A. Ice cream
B. White Rice
C. Fresh apples and pears
D. Popcorn
E. Cooked carrots
Answer Key:
1. False
2. D
3. B, D, E
4. D
5. A
6. B
7. C
8. A
9. False
10. A, C, D
More NCLEX Quizzes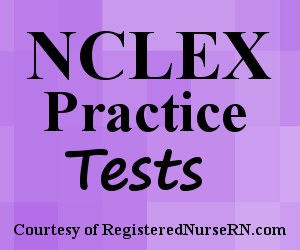 Don't forget to tell your friends about this quiz by sharing it your Facebook, Twitter, and other social media. You can also take more fun nursing quizzes.
*Disclaimer: While we do our best to provide students with accurate and in-depth study quizzes, this quiz/test is for educational and entertainment purposes only. Please refer to the latest NCLEX review books for the latest updates in nursing. This quiz is copyright RegisteredNurseRn.com. Please do not copy this quiz directly; however, please feel free to share a link to this page with students, friends, and others.