This is a quiz that contains NCLEX review questions for renal calculi (renal stones). As a nurse providing care to a patient with a kidney stone, it is important to know the signs and symptoms, pathophysiology, nursing management, patient education, and treatment.
In the previous NCLEX review series, I explained about other renal disorders you may be asked about on the NCLEX exam, so be sure to check out those reviews and quizzes as well.
Don't forget to watch the renal stone lecture prior to taking the quiz.
Renal Calculi (Kidney Stones) NCLEX Questions
This quiz will test your knowledge about renal stones in preparation for the NCLEX exam.
(NOTE: When you hit submit, it will refresh this same page. Scroll down to see your results.)

Renal Calculi (Kidney Stones) NCLEX Question Quiz
1. You're providing an in-service to a group of nurses about the different types of kidney stones. You explain to the attendees that the most common type of kidney stone is made up of:
A. Cholesterol
B. Calcium and oxalate
C. Calcium and phosphate
D. Uric acid
2. Which patient below is at MOST risk for developing uric acid type kidney stones?
A. A 53 year old female with recurrent urinary tract infections.
B. A 6 year old male with cystinuria.
C. A 63 year male with gout.
D. A 25 year old female that follows a vegan diet and report eating high amounts of spinach and strawberries on a regular basis.
3. A patient is scheduled for an intravenous pyelogram (IVP) to assess for kidneys stones. Which finding below requires the nurse to contact the physician?
A. Patient reports flank pain that radiates downward
B. Patient has hematuria
C. Patient is allergic to shellfish
D. Patient has cloudy urine
4. The physician orders a 24-hour urine collection on a patient with recurrent kidney stones. As the nurse you know that the specimen should be?
A. Kept at room temperature
B. Kept on ice or refrigerated
C. Sent to the lab every four hours
D. Kept at a temperature between 98.6 'F to 99.3'F
5. You're providing care to a patient with a uric acid kidney stone that is 2 mm in size per diagnostic imaging. The patient is having severe pain and rates their pain 10 on 1-10 scale. The physician has ordered a treatment plan to assist the patient in passing the kidney stone. What nursing intervention is PRIORITY for this patient based on the scenario?
A. Administer pain medication
B. Encourage fluid intake of 2-4 liters per day
C. Massage the costovertebral area
D. Implement a high protein diet
6. A patient with a kidney stone explains that the pain he is experiencing is intense, sharp, and wavelike that radiates to the scrotum. In addition, he explains it feels like he has to void but a small amount of urine is passed. Based on the patient's signs and symptoms, where may the kidney stone be located?
A. Renal Calyx
B. Renal Papilla
C. Ureter
D. Urethra
7. You're developing a nursing care plan for a patient with a kidney stone. Which of the following nursing interventions will you include in the patient's plan of care?
A. Restrict calcium intake
B. Strain urine with every void
C. Keep patient in supine position to alleviate pain
D. Maintain fluid restriction of 1-2 Liter per day
8. You're providing discharge teaching to a patient who was hospitalized for the treatment of a kidney stone. The type of kidney stone the patient experienced was a uric acid type stone. What type of foods will you educate the patient to avoid?
A. Cabbage, spinach, tomatoes, strawberries
B. Ice cream, milk, pork, cheese
C. Beans, potatoes, corn, peas
D. Liver, scallops, anchovies, sardines, pork
9. Your patient arrives back to their room after having extracoporeal shock wave lithotripsy (ESWL) for treatment of a kidney stone. What will be included in the patient's plan of care? SELECT-ALL-THAT-APPLY:
A. Keep the patient in bed
B. Encourage fluid intake of 3-4 liters per day
C. Maintain nephrostomy tube
D. Strain urine
E. Keep dressing dry and intact
10. You are providing pre-op teaching to a patient scheduled for a percutaneous nephrolithotomy. Which statement by the patient demonstrates the patient understood the pre-op teaching?
A. "During the procedure the surgeon will move the stone down the ureter, so I can pass the stone in the urine.
B. "I may have a nephrostomy tube after the procedure."
C. "A scope is inserted through the urinary system from the urethra to the kidneys to assess the kidney stone."
D. "This procedure is noninvasive and no incision is required."
Answer Key
1. B
2. C
3. C
4. B
5. A
6. C
7. B
8. D
9. B, D
10.B
More NCLEX Quizzes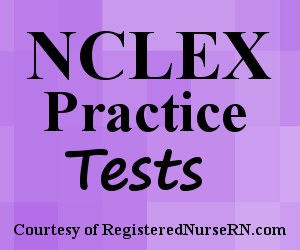 Don't forget to tell your friends about this quiz by sharing it your Facebook, Twitter, and other social media. You can also take more fun nursing quizzes.
*Disclaimer: While we do our best to provide students with accurate and in-depth study quizzes, this quiz/test is for educational and entertainment purposes only. Please refer to the latest NCLEX review books for the latest updates in nursing. This quiz is copyright RegisteredNurseRn.com. Please do not copy this quiz directly; however, please feel free to share a link to this page with students, friends, and others.