Personal protective equipment (PPE) quiz for the NCLEX exam.
In nursing school and on the NCLEX exam, you will need to know about how to use personal protective equipment and how to don and doff PPE. It is crucial you understand this material not only for NCLEX but for your job as a nurse.
Don't forget to take the other NCLEX review quizzes on isolation precautions etc.
Personal Protective Equipment (PPE) NCLEX Quiz
This quiz will test your knowledge about personal protective equipment in preparation for the NCLEX exam.
(NOTE: When you hit submit, it will refresh this same page. Scroll down to see your results.)

Quiz on PPE
1. True or False: The correct sequence for donning PPE is the following: gloves, mask/respirator, goggles/face shield, gown.
2. After providing care to a patient with chicken pox, you remove your PPE. Which statement is TRUE about PPE removal?
A. After removing PPE, it is best to perform hand hygiene with hand sanitizer when the hands are visibly soiled.
B. It is best practice to remove all personal protective equipment in the patient's room.
C. When removing PPE, the respirator should be removed outside the patient's room.
D. All the statements are true.
3. A patient requires nasotracheal suction. The patient is receiving medical treatment for Mycoplasma Pneumonia. Select the PPE you would wear for this procedure:
A. Gloves and mask
B. Gloves, gown, goggles, and mask
C. Goggles and mask
D. Gloves and goggles
4. Referring back to question 4, in what order would you doff (remove) the PPE?
A. Gloves then mask
B. Goggles then mask
C. Gloves, gown, goggles, and mask
D. Gloves, mask, googles, then gown
5. When removing PPE it is important to know what areas of the PPE are considered "clean" vs "contaminated". Select ALL the areas on PPE that are considered "clean":
A. Ties on the gown
B. Outside of the mask
C. Sleeves of the gown
D. Back of the gown
E. Inside of the gloves
F. Straps on the goggles
6. One important type of personal protective equipment is a respirator. Which statement is FALSE about a respirator?
A. A respirator is to be worn at all times when a patient is in droplet precautions.
B. It is important to be fitted for a respirator annually by your employer.
C. After donning a respirator, the nurse must perform a seal check.
D. After providing patient care, the nurse will remove the respirator outside the patient's room.
7. True or False: The nurse should always don personal protective equipment in the patient's room.
Answer Key:
1. False
2. C
3. B
4. C
5. A, D, E, F
6. A
7. False
More NCLEX Quizzes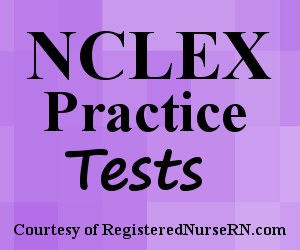 Don't forget to tell your friends about this quiz by sharing it your Facebook, Twitter, and other social media. You can also take more fun nursing quizzes.
*Disclaimer: While we do our best to provide students with accurate and in-depth study quizzes, this quiz/test is for educational and entertainment purposes only. Please refer to the latest NCLEX review books for the latest updates in nursing. This quiz is copyright RegisteredNurseRn.com. Please do not copy this quiz directly; however, please feel free to share a link to this page with students, friends, and others.