This is a quiz that contains NCLEX review questions for osteoarthritis. As a nurse providing care to a patient with osteoarthritis, it is important to know the signs and symptoms, pathophysiology, nursing management, patient education, and treatment for this condition.
In the previous NCLEX review series, I explained about other musculoskeletal disorders you may be asked about on the NCLEX exam, so be sure to check out those reviews and quizzes as well.
Don't forget to watch the lecture on osteoarthritis before taking the quiz.
Osteoarthritis NCLEX Questions
This quiz will test your nursing knowledge on osteoarthritis in preparation for the NCLEX exam.
(NOTE: When you hit submit, it will refresh this same page. Scroll down to see your results.)

NCLEX Practice Questions on Osteoarthritis
1. Osteoarthritis develops due to the deterioration of the synovium within the joint that can lead to complete bone fusion.
The answer is FALSE: Osteoarthritis is the most common type of arthritis that develops due to the deterioration of the HYALINE CARTILAGE (not synovium) of the bone. This can lead to bone break down and osteophytes formation (bone spurs).
2. Which patients below are at risk for developing osteoarthritis? Select-all-that-apply:
A. A 65 year old male with a BMI of 35.
B. A 59 year old female with a history of taking long term doses of corticosteroids.
C. A 55 year old male with a history of repeated right knee injuries.
D. A 60 year old female with high uric acid levels.
The answers are A and C. The risk factors for developing OA include: older age, being overweight (BMI >25), repeated injuries to the weight bearing joints, genetics.  Option B is at risk for osteoporosis, and option D is at risk for gout.
3. During a head-to-toe assessment of a patient with osteoarthritis, you note bony outgrowths on the distal interphalangeal joints. You document these findings as:
A. Bouchard's Nodes
B. Heberden's Nodes
C. Neurofibromatosis
D. Dermatofibromas
The answer is B. Bony outgrowths found on the DISTAL interphalangeal joint (closest to the fingernail and furthest away from the body) is called Heberden's Node. If the bony outgrowth was found on the PROXIMAL interphalangeal joint (middle joint of the finger…closest to the body) it is called Bouchard's Node.
4. A patient with osteoarthritis is describing their signs and symptoms. Which signs and symptoms below are NOT associated with osteoarthritis? Select-all-that-apply:
A. Morning stiffness greater than 30 minutes
B. Experiencing grating during joint movement
C. Fever and Anemia
D. Symmetrical joint involvement
E. Pain and stiffness tends to be worst at the end of the day
The answers are: A, C, D. These options are signs and symptoms found with rheumatoid arthritis NOT osteoarthritis. In OA: morning stiffness is LESS than 30 minutes, it is NOT systemic as RA (so fever and anemia will not be present), and it is asymmetrical (both joints are not involved). Pain and stiffness will actually be worst at the end of the day compared to the beginning due to overuse of the joints.
5. A patient with osteoarthritis has finished their first physical therapy session. As the nurse you want to evaluate the patient's understanding of the type of exercises they should be performing regularly at home as self-management. Select all the appropriate types of exercise stated by the patient:
A. Jogging
B. Water aerobics
C. Weight Lifting
D. Tennis
E. Walking
The answers are B, C, E. The patient wants to perform exercises that are low impact like: walking, water aerobics, stationary bike riding along with strengthen training (lifting weights: helps strengthen muscles around the joint), ROM: improves the mobility of the joint and decreases stiffness. It is important patients with OA avoid high impact exercises that will increase stress on weight bearing joints such as running/jogging, jump rope, tennis, or any type of exercise with both feet off the ground.
6. A 63 year old patient has severe osteoarthritis in the right knee. The patient is scheduled for a knee osteotomy. You are providing pre-op teaching about this procedure to the patient. Which statement made by the patient is correct about this procedure?
A. "This procedure will realign the knee and help decrease the amount of weight experienced on my right knee."
B. "A knee osteotomy is also called a total knee replacement."
C. "A knee osteotomy is commonly performed for patients who have osteoarthritis in both knees."
D. "This procedure will realign the unaffected knee and help alleviate the amount of weight experienced on the right knee."
The answer is A. A knee osteotomy is NOT known as a total knee replacement. A knee osteotomy can be used as an alternative for a total knee replacement but is not the same thing. In addition, a knee osteotomy is performed when there is OA on only one side of the knee.
7. A patient newly diagnosed with osteoarthritis asks about the medication treatments for their condition. Which medication is NOT typically prescribed for OA?
A. NSAIDs
B. Topical Creams
C. Oral corticosteroids
D. Acetaminophen (Tylenol)
The answer is C. Intra-articular corticosteroids (an injection in the joint) are commonly prescribed rather than oral corticosteroids. Remember OA in within the joint…not systemic so oral corticosteroids are not as effective. All the other medications listed are prescribed in OA.
8. You receive your patient back from radiology. The patient had an x-ray of the hips and knees for the evaluation of possible osteoarthritis. What findings would appear on the x-ray if osteoarthritis was present? Select-all-that-apply:
A. Increased joint space
B. Osteophytes
C. Sclerosis of the bone
D. Abnormal sites of hyaline cartilage
The answers are B and C. The joint space would be DECREASED not increased in OA. In addition, an x-ray cannot show hyaline cartilage…therefore, the cartilage cannot be assessed on an x-ray. The radiologist would be looking for osteophytes (bone spurs), sclerosis of the bone (abnormal hardening of the bones), and decreased joint space.
More NCLEX Quizzes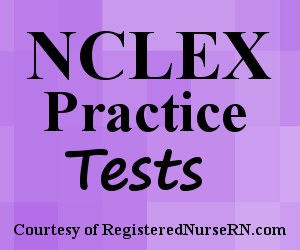 Don't forget to tell your friends about this quiz by sharing it your Facebook, Twitter, and other social media. You can also take more fun nursing quizzes.
*Disclaimer: While we do our best to provide students with accurate and in-depth study quizzes, this quiz/test is for educational and entertainment purposes only. Please refer to the latest NCLEX review books for the latest updates in nursing. This quiz is copyright RegisteredNurseRn.com. Please do not copy this quiz directly; however, please feel free to share a link to this page with students, friends, and others.