This is a quiz that contains NCLEX review questions for nephrotic syndrome vs glomerulonephritis (acute). As a nurse providing care to a patient with these conditions, it is important to know the signs and symptoms, pathophysiology, nursing management, patient education, and treatment for these conditions.
In the previous NCLEX review series, I explained about other renal disorders you may be asked about on the NCLEX exam, so be sure to check out those reviews and quizzes as well.
Don't forget to watch the nephrotic syndrome vs. glomerulonephritis lecture before taking this quiz.
Nephrotic Syndrome vs Glomerulonephritis
This quiz will test your knowledge on the differences between nephrotic syndrome and glomerulonephritis (acute).
(NOTE: When you hit submit, it will refresh this same page. Scroll down to see your results.)

Nephrotic Syndrome vs. Glomerulonephritis Quiz
1. True or False: One of the main causes of nephrotic syndrome is a post streptococcal infection.
The answer is FALSE. A streptococcal infection is one of the main causes of ACUTE GLOMERULONEPHRITIS. It can occur 14 days after a strep infection of the throat or skin.
2. A patient is diagnosed nephrotic syndrome. What signs and symptoms below are common in this condition? Select-all-that-apply:
A. Hypertension
B. Decreased Glomerular Filtration Rate
C. Foamy, frothy urine
D. Massive Proteinuria
E. Hyperlipidemia
F. Edema
G. Hematuria
H. Hypoalbuminemia
The answers are: C, D, E, F, and H. Hypertension, decreased glomerular filtration rate, and hematuria are common findings in ACUTE GLOMERULONEPHRITIS.
3. In patients who are experiencing acute glomerulonephritis, the glomerulus is permeable to what substances?
A. Red blood cells and protein
B. Protein and white blood cells
C. Red blood cells, protein, and lipids
D. Proteins
The answer is A. The glomerulus is inflamed and permeable to red blood cells and protein.
4. True or  False: Hypertension occurs in acute glomerulonephritis and is not a common finding with nephrotic syndrome.
The answer is TRUE. Patients with acute glomerulonephritis will experience a decreased in the glomerular filtration rate, which will cause the kidneys to filter LESS blood. This leads to more blood volume, hence hypertension. In addition, the patient will retain more water and sodium. In nephrotic syndrome, it is rare for the glomerular filtration rate to be affected.
5. Select the most common type of medications that may be ordered by a physician to treat nephrotic syndrome:
A. Cardiac glycosides
B. Corticosteroids
C. Antibiotics
D. Antihypertensives
E. Diuretics
F. Anticholinergics
The answers are B and E. Corticosteroids are commonly ordered for treatment of nephrotic syndrome. These medications will help reduce swelling and decrease the amount of protein lost in the urine. In addition, diuretics will help remove extra fluid in the body. Diuretics are sometimes used with the administration of IV albumin to help replenish the system with albumin.
6. A 5 year-old male patient is experiencing acute glomerulonephritis. What signs and symptoms may you observe with this condition?
A. Swelling in the face
B. Hyperlipidemia
C. Tea-colored urine
D. Elevated BUN and creatinine level
E. >3 Grams of protein loss in the urine per day
The answers are A, C, and D. Hyperlipidemia and >3 Grams of protein loss in the urine per day is common in NEPHROTIC SYNDROME not acute glomerulonephritis.
7. A patient is suspected of having nephrotic syndrome due to a health history of Lupus. As the nurse you know that what substance(s) will be present in the urine to confirm this diagnosis?
A. Red blood cells and mild protein
B. Massive red blood cells and moderate protein
C. Massive protein
D. Elevated potassium and sodium
The answer is C. In nephrotic syndrome there is a MASSIVE amount of protein lost in the urine. Red blood cells are rarely lost in this condition.
More NCLEX Quizzes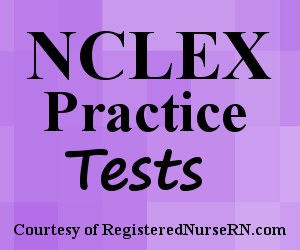 Don't forget to tell your friends about this quiz by sharing it your Facebook, Twitter, and other social media. You can also take more fun nursing quizzes.
*Disclaimer: While we do our best to provide students with accurate and in-depth study quizzes, this quiz/test is for educational and entertainment purposes only. Please refer to the latest NCLEX review books for the latest updates in nursing. This quiz is copyright RegisteredNurseRn.com. Please do not copy this quiz directly; however, please feel free to share a link to this page with students, friends, and others.