This quiz will test your knowledge on how to care for patients with hypertension. Majority of patients struggle with high blood pressure and as the nurse it is very important you know how to educate the patient, provide care, and the side effects of medications.
This NCLEX quiz on hypertension will test your knowledge on:
Risk factors for hypertension
Nursing interventions for hypertension
Non-pharmacological and Pharmacological treatments for medications
Drugs used for treating hypertension
Hypertension NCLEX Question Quiz
This NCLEX quiz will test your nursing knowledge about hypertension, specifically the pharmacology, nursing interventions, and patient education.
NCLEX Review Lecture on Hypertension
Hypertension NCLEX Quiz Questions
A patient is being discharged home on Hydrochlorothiazide (HCTZ) for treatment of hypertension. Which of the following statements by the patient indicates they understood your discharge teaching about this medication?
A.      I will make sure I consume foods high in potassium.
B.      I will only take this medication if my blood pressure is high.
C.      I understand a dry cough is a common side effect with this medication.
D.      I will monitor my glucose levels closely because this medication may mask symptoms of hypoglycemia.
Which of the following patients does not have a risk factor for hypertension?
A.      A 25 year old male with a BMI of 35.
B.      A 35 year old female with a total cholesterol level of 100.
C.      A 68 year old male who reports smoking 2 packs of cigarettes a day.
D.      A 40 year old female with a family history of hypertension and diabetes.
A patient with hypertension is started on a new medication for treatment and is reporting a continuous dry cough. Which of the following medications do you suspect is causing this problem?
A.      Lisinopril
B.      Labetalol
C.      Losartan
D.      Hydrochlorothiazide
Which of the following patients is not a candidate for a beta blocker medication?
A.      A 45 year old male with angina.
B.      A 39 year old female with asthma.
C.      A 25 year old female with migraines.
D.      A 55 year old male with a history of two heart attacks.
Which family of drugs are the following medications considered: Amlodipine, Verapamil, Diltiazem?
A.      Beta blockers (BB)
B.      ACE Inhibitors (ACEI)
C.      Angiotension  Receptor Blockers (ARBs)
D.      Calcium Channel Blockers (CCBs)
Which of the following systems of the body are affected by hypertension?
A.      Cardiovascular, brain, kidney, eyes
B.      Cardiovascular, gastrointestinal, reproductive, and kidney
C.      Brain, respiratory, kidney, cardiovascular
D.      None of the above
Non-pharmacological techniques can help lower blood pressure. Which of the following is not considered one of these types of techniques?
A.      Dietary changes
B.      Multivitamins
C.      Smoking cessation
D.      Limiting caffeine
Which of the following drugs is NOT considered an Angiotension Receptor Blocker (ARBs) medication used in hypertension?
A.      Catapres
B.      Losartan
C.      Benicar
D.      Valsartan
A patient is scheduled to take Captopril. When is the best time to administer this medication?
A.      30 minutes after a meal
B.      At bedtime
C.      In the morning
D.      1 hour before a meal
True or False: Most patients with hypertension are asymptomatic.
Answer Key:
A
B
A
B
D
A
B
A
D
True
(NOTE: When you hit submit, it will refresh this same page. Scroll down to see your results.)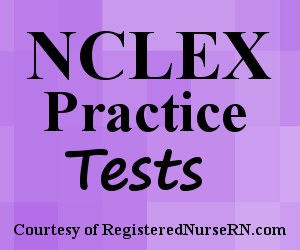 Don't forget to tell your friends about this quiz by sharing it your Facebook, Twitter, and other social media. You can also take more fun nursing quizzes.
*Disclaimer: While we do our best to provide students with accurate and in-depth study quizzes, this quiz/test is for educational and entertainment purposes only. Please refer to the latest NCLEX review books for the latest updates in nursing. This quiz is copyright RegisteredNurseRn.com. Please do not copy this quiz directly; however, please feel free to share a link to this page with students, friends, and others.