This NCLEX diabetes mellitus quiz will test your knowledge on diabetes. Diabetes mellitus is where a patient does not have sufficient amounts of insulin to use the glucose that enters the blood stream. Therefore, the patient experiences hyperglycemia which is damaging to the body.
The NCLEX and nursing school lecture exams love to test students on their ability to differentiate between causes, signs and symptoms, patient education, and various treatments for diabetes.
This NCLEX quiz will test your ability:
Patho of Diabetes Mellitus
Causes of Diabetes Mellitus
Different types of Diabetes Mellitus
Signs and Symptoms of Diabetes Mellitus
Complications of Diabetes Mellitus
Lecture on Diabetes Mellitus
(NOTE: When you hit submit, it will refresh this same page. Scroll down to see your results.)
Diabetes Mellitus NCLEX Quiz
1. Which of the following symptoms do NOT present in hyperglycemia?
A. Extreme thirst
B. Hunger
C. Blood glucose <60 mg/dL
D. Glycosuria
The answer is C.
2. Type 1 diabetics typically have the following clinical characteristics:
A. Thin, young with ketones present in the urine
B. Overweight, young with no ketones present in the urine
C. Thin, older adult with glycosuria
D. Overweight, adult-aged with ketones present in the urine
The answer is A.
3. A patient with diabetes has a morning glucose of 50. The patient is sweaty, cold, and clammy. Which of the following nursing interventions is the MOST important?
A. Recheck the glucose level
B. Give the patient ½ cup (4 oz) of fruit juice
C. Call the doctor
D. Keep the patient nothing by mouth
The answer is B .
4. Which of the following patients is at most risk for Type 2 diabetes?
A. A 6 year old girl recovering from a viral infection with a family history of diabetes.
B. A 28 year old male with a BMI of 49.
C. A 76 year old female with a history of cardiac disease.
D. None of the options provided.
The answer is B. Remember Type 2 diabetes risk factors are related to lifestyle….being obese is a risk factor (BMI >30 in males is considered obese). So, the 28 year old male with a BMI of 49 is most at risk for Type 2.
5. The _____ ______ secrete insulin which are located in the _______.
A. Alpha cells, liver
B. Alpha cells, pancreas
C. Beta cells, liver
D. Beta cells, pancreas
The answer is D.
6. A 36-year-old male is newly diagnosed with Type 2 diabetes. Which of the following treatments do you expect the patient to be started on initially?
A. Diet and exercise regime
B. Metformin BID by mouth
C. Regular insulin subcutaneous
D. None, monitoring at this time is sufficient enough
The answer is A.
7. Which of the following statements are true regarding Type 2 diabetes treatment?
A. Insulin and oral diabetic medications are administered routinely in the treatment of Type 2 diabetes.
B. Insulin may be needed during times of surgery or illness.
C. Insulin is never taken by the Type 2 diabetic.
D. Oral medications are the first line of treatment for newly diagnosed Type 2 diabetics.
The answer is B.
8. What statement or statements are INCORRECT regarding Diabetic Ketoacidosis?
A. DKA occurs mainly in Type 1 diabetics.
B. Ketones are present in the urine in DKA.
C. Cheyne-stokes breathing will always present in DKA.
D. Severe hypoglycemia is a hallmark sign in DKA.
E. Options C & D
The answer is E.
9. A patient who has diabetes is nothing by mouth as prep for surgery. The patient states they feel like their blood sugar is low. You check the glucose and find it to be 52. The next nursing intervention would be to:
A. Administer Dextrose 50% IV per protocol
B. Continue to monitor the glucose
C. Give the patient 4 oz of fruit juice
D. None, this is a normal blood glucose reading
The answer is A. This question requires critical thinking because the patient is NPO for surgery and can NOT eat but is experiencing hypoglycemia. Normally, you could give the patient 15 grams of a simple carbohydrate like 4 oz of fruit juice or soda, glucose tablets, gel etc. per hypoglycemia protocol However, the patient can NOT eat due to surgery prep. Therefore the nurse would need to administer Dextrose 50% IV per protocol to help increase the blood glucose and recheck the glucose level.
10. A Type 2 diabetic may have all the following signs or symptoms EXCEPT:
A. Blurry vision
B. Ketones present in the urine
C. Glycosuria
D. Poor wound healing
The answer is B.
(NOTE: When you hit submit, it will refresh this same page. Scroll down to see your results.)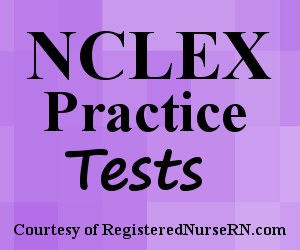 Don't forget to tell your friends about this quiz by sharing it your Facebook, Twitter, and other social media. You can also take more fun nursing quizzes.
*Disclaimer: While we do our best to provide students with accurate and in-depth study quizzes, this quiz/test is for educational and entertainment purposes only. Please refer to the latest NCLEX review books for the latest updates in nursing. This quiz is copyright RegisteredNurseRn.com. Please do not copy this quiz directly; however, please feel free to share a link to this page with students, friends, and others.