Learn how to assess for costovertebral angle tenderness, also called CVA tenderness, in patients who are suspected of having a kidney infection.
Assessing for CVA tenderness is quick and easy! The video and tutorial below will guide you in how to check for this tenderness.
Who is at risk for costovertebral angle tenderness? Anyone who has experienced some type of urinary tract infection, especially UTIs that affect the upper urinary system such as the ureters and kidneys, k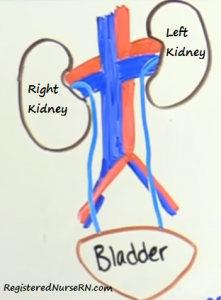 idney stones, or any other type of infection that affects the kidney.
Why does eliciting a response from the costovertebral angel cause tenderness? Located posteriorly to the last rib (specifically the 12th rib) and the spine is the costovertebral angle which anteriorly contains the right and left kidney. If either kidney is inflamed due to infection, a firm thump to this area will cause pain. Think of it as having an infected area on the surface of the skin….it will be red and swollen. If someone bumps into it or touches it this causes pain. This is the same concept with percussing the inflamed kidney over the costovertebral angle.
Video Demonstration on Checking for CVA Tenderness

How to Check for Costovertebral Angle Tenderness
Position yourself to the patient's back (posterior).
Find the CVA by assessing for the 12th rib and the spine….just below the 12th rib in between the spine is the angle.
Lay your non-dominate hand flat over the angle.
Make a fist with your dominate hand and firmly thump the fist onto the flat non-dominate hand.
Ask the patient if they felt tenderness or pain.
**If pain or tenderness is experienced by the patient it is considered "positive". Therefore, the nurse should document the finding as positive for costovertebral angle tenderness, and notify the physician, who will order tests to further evaluate this finding.
Learn more about nursing head-to-toe assessments.